A (Rock) Star Is Born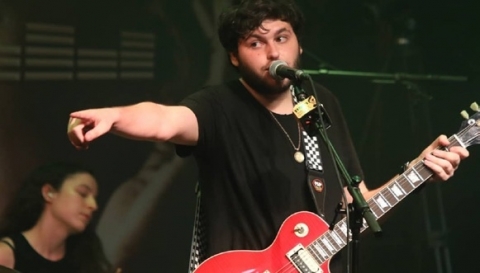 Shirimon Rimon Music School Annual Singing Competition
Warning: gushing granny alert!
You might say I married into music. Rusty, my husband, played violin as a boy. His mom, a piano teacher, forfeited a lavish wedding in favor of a Steinway boudoir grand. It found its way into our parlor, where visiting virtuosos wowed us, as my sister-in-law chaired the Johannesburg Classical Music Society.

We made aliyah, and the piano, now close to 100 years old, is in Raanana, in the Ohayon home. It, like us, has come home, for Gilad, my grandson, was born to music.
We giggled when, at less than a year, he could not tolerate Baby Mozart, but jived to Baby Bach. In kindergarten, he crashed the cymbals with uncanny timing. At middle school he bunked class and hid in the music room. He emerged proficient in guitar and keyboard. But his strength is his voice.
He was accepted to the prestigious Rimon Music School, where this year he took part in the Shirimon, his school's annual song festival. The list of past winners includes Netta, who won for Israel in the Eurovision contest.
In the opening rounds the competition was fierce. Each act was more impressive than the previous one. Not to be outdone, Gilad, at 19, the youngest entry, reinterpreted Static and Ben El's Zahav: a bubblegum pop song became a sultry hard rock anthem. His performance ensured his passage to the final, to be staged at the famous Zappa club.
The big night was set for June 22 of this year. Corona restrictions meant we were unable to attend. We had to content ourselves with a live Facebook broadcast.
The atmosphere was electric. It was further charged because Shiri Maimon, and Yael Shoshana Cohen, Israeli pop aristocracy, were among the judges.
Twelve bands were to perform. Gilad's would be 8th. We sat breathless at the computer screen. He went up to the stage. His moment had arrived.
Five minutes later, Rusty and I were on our feet applauding with the live crowd. From the start, Gilad and his band ruled the stage. They took us on a wild, flawless musical ride, with a finish that must be seen and heard to be believed.
Were we overreacting? The judges concurred. Bach, it wasn't. Magic, it certainly was. Shiri Maimon said: You're a star, Gilad. Yael Shoshana Cohen blamed corona for everyone not jumping onto the dance floor.
The prize-giving ceremony soon followed. Gilad was declared the crowd favorite, and awarded a scholarship. You can view his performance and the judges' verdicts online https://www.youtube.com/watch?v=XXgMXL9hue4
Gilad is a modest young man. On stage, he is transformed. We are so proud that he is part of the wonderfully talented new generation of musicians in Israel. And we look forward to being wowed by performances of his own virtuoso brand, and on the Steinway boudoir grand.
Bravo! Encore!
Comments
No comments made yet. Be the first to submit a comment