Milestones 205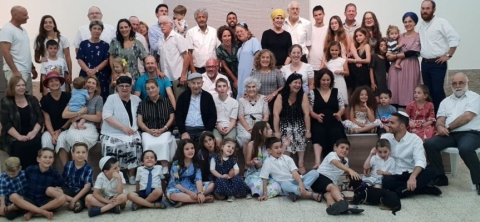 BIRTHS
On your granddaughter
Emma & Richard Rinberg
Linda & Michael Sherrington
On your grandson
Anne Frey
Sally & Richard Halon, on Idan
Vera & Joey Freudmann, on Shai
Lavi
Lenore & Herb Hahn, on Yuval
Cheryl & Graham Liebson
Jeri & Mottie Hahn-Markowitz,
on Yuval
Norma & Stanley Rudnick, on Idan
On your great granddaughter
Marjorie Glick
On your great grandson
Pamela & Murray Figov
Rae Galloon
Lenore & Herb Hahn, on Yuval
Doreen & Willie Malkinson, on
Yahav
Rena & Bernard Wexler

ENGAGEMENTS
On your daughter
Sharona & Ari Bick, on Shira to
Aviya
On your granddaughter
Rosie & Hillel, on Shira to Aviya
Rivka & Aron Walles, on Shira to
Aviya

MARRIAGES
On your daughter
Aviva & Moish Malkinson, Sara
to Aviran Goshen
On your granddaughter
Doreen & Willie Malkinson, on
Sara to Aviran Goshen
Lenore & Herb Hahn, Michal
Eisenberg to Gidon Tuch
Susan & Shmuel Herold, on Noa
to Amitai

ANNIVERSARY
Lenore & Herb Hahn | 65th

BIRTHDAYS
Honey Stollman | 80
Stanley Kersen | 90
Aubrey Ellman | 91

CONGRATULATIONS
Naomi Stuchiner, founder of
Beit Issie Shapiro, on receiving
the Israel Prize 2020 for Lifetime
Achievement.

ESRA extends our deepest sympathies
to the families of:
Jerry Aviram, husband of Arlene
Shirley Claff, wife of Michael
Ron Cohen, father Vicki Caplan
Joe Goldberg, husband of Chana
Monty Groundland, husband of
Sara
Jack Hyman, brother of Susan
Kurnedz
Ze'ev Hirsch, husband of Shirley
Gloria Pollack, mother of Sharon
Lanis
Michael Vivian Shine, husband
of Sharon
Nancy Osserman, mother of
Pamela Bank
Rita Wallis, sister of Netta Green,
aunt of Glenis & Lawrence
Bertfield

COVID-19
ESRA wishes "Refuah Shelama",
a complete recovery to all corona
patients over the world. We
extend our deepest sympathies
to all families and friends who
have suffered bereavements from
Covid-19.

Comments
No comments made yet. Be the first to submit a comment