Flights Landed on Sea of Galilee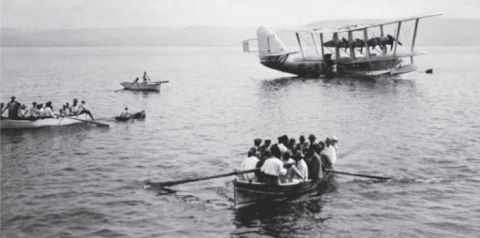 The fascinating image of a sea plane landing on the Sea of Galilee epitomised the nature of the early days of air travel between Britain and British mandate Palestine, ie pre-state Israel, when Robin Froumin delivered an illustrated talk to an ESRA Five Towns audience on the topic.
Members and guests saw and learned of the multi-leg itineraries, necessitating a handful of stopovers for refuelling and incorporating train travel following the end of WWI.
During Come Fly with Me, Robin explained that there was none of the modern day, budget airline style, cramped spaces, but that early fliers travelled in quite some style. Prices appeared similar, but accounting for inflation meant that they were the equivalent of thousands of pounds sterling today.
Memories were jogged such that question time elicited a handful of personal, hair-raising accounts of early flights from members of the audience.
Robin Froumin, a long time immigrant from England, is a retired tourist guide and obtained a master's degree in history and archaeology from the University of Haifa. He had previously presented a talk on Israel's railways and is planning to update that talk to take into account more recent developments. He is an ESRA Five Towns branch committee member.
Branch treasurer, Betty Kazin, made a presentation to branch chairman Laurence Jacobs and his wife Bebe on the birth of a new grandchild. The chairman introduced the speaker and hospitality was provided by the evening's hosts, Mel and David Goldman at their home in Zichron Yaakov.
Comments
No comments made yet. Be the first to submit a comment