Wines of the Golan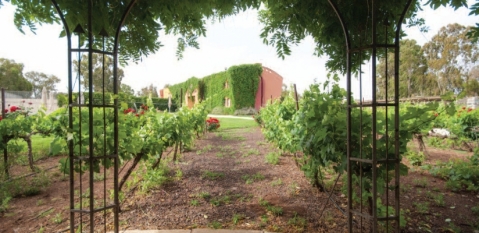 Photos: Ofer Blanc

In 1976, while Americans were celebrating the Bicentennial of the American Revolution, some intrepid Israelis, with the help of international consultants, were starting a revolution of their own in the recently embattled Golan Heights. This has been cited as the first serious Israeli effort for a commercial winery to make world-class wines on a large scale since Israel became a modern state.

These first plantings of 1976 would be part of the first harvests and first vintages of the Golan Heights Winery, launched as a collective of eight kibbutzim and moshavim, whose first vintage would be released in 1984. It would be another 20 years before there were enough wineries in the sparsely populated Golan for it to be much of a touring region. But now the Golan Heights, which borders Lebanon, Syria and Jordan, is an amazing Epicurean escape with wineries, also a notable brewery, distilleries and chocolatier as well as encompassing valued grazing pastures for Israeli premium beef and lamb.
With at least a dozen welcoming visitors' centers, these various delights can keep a local or tourist from overseas entertained for at least one special day if not half a week. When visiting, it's always best to call ahead. The Golan Heights Winery (its wines better known under their labels Yarden, Gamla and Mt. Hermon) can easily host more than one 50-person bus in its spacious confines. Some of the other wineries are much more limited in how many people or groups they can host at once.
What has shaped this wine region is not only the wines it produces but the soil and the climate of its vineyards and the dedicated wine experts it has attracted. With a predominant base of rich basaltic soil deposited eons ago by now extinct (or at least dormant) volcanoes, this basaltic base is common to other more famous wine regions like parts of the Columbia River basin of Washington State and Oregon in the USA, parts of Sicily due to the still active Mt. Etna, some venerable sites in Germany or the cherished and unique wines of the island of Madeira.
On the surface, most of Israel, located between 29 and 33 degrees north of the equator would be discounted by experts as a potential region for quality wines. Most more established wine regions are between 35 to 45 degrees north or south of the equator with exceptions testing 30 to 50 degrees. Where there are exceptions that make fine wine, there is notably a body of water or another geographical feature that makes warmer regions cooler or cooler regions more hospitable for growing quality wine grapes. In the Golan Heights, at 33 degrees north, it's the altitude of the vineyards and the cooler temperatures that come with it that allow vineyards at 400 to 1,200 meters to emulate vineyards with climates of 35 to 43 degrees, of reputable vineyards of France, California, South Africa, and Australia to name just a few.
Kosher wineries of course will tend to close earlier on Friday afternoons and not be open at all on Saturdays and several religious holidays throughout the year. Four notable non-kosher wineries that are open on Saturdays are the Pelter Winery in Ein Zivan (walking distance from the kosher Bahat), the Assaf Winery in Katzrin (the Golan's largest town), Chateau Golan in Moshav Eliad (the most eastern winery in the Golan along route 98) and the Ortal Winery on Kibbutz Ortal (one of the members of the Golan Heights Winery collective).
For kosher wineries to visit, there is the Golan Heights Winery in Katzrin, the Bazelet HaGolan Winery (just a few minutes north of Katzrin) in Moshav Kidmat Zvi and the Odem Mountain Winery (the most northern winery in Israel) in Moshav Odem.
For the uninitiated, there is no qualitative difference between kosher and non- kosher wines as many other wine authorities have verified.
Most of the winemakers in the Golan either studied in English speaking countries or even originate from there with just a few exceptions which means that most are fairly comfortable speaking about wine in English if you can work your way past the visitors center staff to talk shop with the winemaker.
At Pelter for example, winemaker Tal Pelter studied viticulture in Perth, Australia. He's consulted for many aspiring wineries and his family winery is one of the top tier wineries in the country. They recently launched their kosher Matar label with a full line of wines so that they could both keep the Pelter brand, yet extend their reach to far wider audiences in Israel as well as overseas. They feature impressive dry whites such as Chenin Blanc and Chardonnay, and reds such as Cabernet Sauvignon and Cabernet Franc. Most notably the only boutique winery making a Champagne method sparkling wine there had to find Blanc de Blanc. They are the only boutique which broke out into the spirits lane with Pelter gin, arak, date brandy and soon to be released bourbon barrel-aged whiskies.
Naama Sorkin of the Ortal Winery also studied winemaking in Australia. This smaller estate winery, whose grapes come solely from the kibbutz it's named after, features popular varietals like Cab, Merlot, Cab Franc and Sauvignon Blanc with rarer varietals like Petit Verdot and Roussanne. Naama has only been at Ortal a short time but is better known for a long tenure as chief winemaker at the Galilee's Dalton Winery.
The Assaf Winery is rightly named after winemaker Assaf Kedem. Assaf studied along with Peter Silberberg of University of California Davis before studying himself in Stellenbosch, South Africa. The winery is part of a self-styled wine village with a visitors' center, exclusive guest cabins, a coffee shop and facilities to host catered meals cooked on the premises. Assaf makes several wines but was one of the first to embrace Pinot Gris and Pinotage grapes among smaller producers.
Winemaker Uri Hetz of Chateau Golan spent six years studying wine fermentation at Oregon State University and was an award winning scholar in the USA before starting an almost 20-year tenure at Chateau Golan. Seems like a natural fit since both regions feature aforementioned similar climates and soils. His Geshem white features Grenache Blanc and Roussanne, his red is a Grenache Noir based bend and he is noted as one of early adopters and pioneers for Rhone grape varietals in Israel.
As previously mentioned, the Golan Heights Winery which produces millions of bottles of wine a year and which is the only large commercial winery in the Golan paved the way for the boutiques that followed. There were a few Anglos who were influential in the early days but one person who was more influential than any other in the lifetime of the winery has been winemaker Victor Schoenfeld, an American-born UC Davis graduate who has steered the helm of the winery now for decades. Under his guidance, the winery has won scores of accolades including high scores from Robert Parker's Wine Advocate, Best New World Winery from Wine Enthusiast Magazine and Best Winery out of thousands of entrants at the VinItaly competition.
Although the winemakers at the Odem Mountain Winery and Bazelet HaGolan are both from Israel and acquired their skills locally they are well worth visiting to experience a taste of what exquisite wines local winemakers are producing from one of Israel's several premium wine regions.
David Rhodes, "the Israeli wine guy," has been writing about Israeli food and alcohol for over ten years. He currently is the resident wine expert for KAN Radio 101.3 and can be reached at This email address is being protected from spambots. You need JavaScript enabled to view it.
Comments
No comments made yet. Be the first to submit a comment