Walking Football in Israel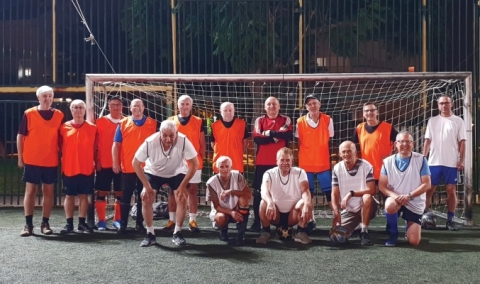 'Walking football? Isn't that an oxymoron?' is the first question I am usually asked, when I begin to explain that one of the fastest growing sports in Europe has arrived in Israel.

Walking football is, as the name suggests, traditional football (the British version, not the American) at a slower pace, geared towards a more mature age group.
There are three main differences, the key one being NO running is allowed whatsoever, whether with or without the ball. There is a height restriction (head-height), and no (deliberate) physical contact is permitted. The game is played on a smaller pitch, with smaller goals, and generally on an Astroturf surface.
The idea behind all these changes is that everybody can once again enjoy the game they love, with greatly reduced risks of injury.
Look up 'walking football' on the internet, and dozens of articles and videos will appear from some of the thousands of teams that now play throughout Europe. Click on any video, and one will hear the same refrain repeated: 'How great it is to play football again, to do exercise that we enjoy, to be part of a team and the camaraderie that comes with it, (and if in Great Britain) not to mention the beers after the game'.
In Israel, the sport began in Raanana in May 2021, and since then there have been 25 matches. Every Sunday evening at around 7 pm, one will notice the arrival at Sportek Raanana on Shlonsky Street of mature men in shorts starting to warm up. The few injuries that have occurred are generally pulled muscles, for those who think warming up is for wimps. The minimum age in Raanana is 55, but there is no upper limit, with our oldest player being 77.
In November 2021, a weekly game began in Kiryat Ono on Sunday mornings, supported by the municipality, and there have been nine sessions so far. Discussions have begun in other towns, and will hopefully soon bear fruit in Petah Tikva, Rishon LeZion, Netanya, Jerusalem, Kiryat Bialik and Acre.
Initial discussions about walking football are traditionally met with skepticism, but once people actually play, they tend to change their tune. Walking fast for 50 minutes can be quite exhausting, and the no-running rule forces players to think about their passing and their positioning.
How pleasant it is to enjoy a pastime that is healthy and fun and creates new friendships, and how gratifying to hear that the weekly match is one of the highlights of the week for many people.
Comments
1 Do women play in Israel? Here in (Leeds) England we have a fantastic mixed group with around 10 women who regularly play.
Do women play in Israel? Here in (Leeds) England we have a fantastic mixed group with around 10 women who regularly play.