The Clock in my Story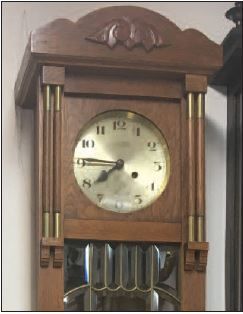 A few words to thank you for choosing my short story – "The Clock" as second choice in the ESRAmagazine Short Story Competition 2018 - I was simply thrilled!
I read with great interest choices one and three and wish to congratulate the two writers - I thought their subject matter was deeply interesting and very well written. It is undoubtedly a great compliment for me to stand together with such writers.
I am reading and particularly enjoying this edition, #197, of the ESRAmagazine - haven't read it all yet but so far I want to mention the short but touching poem – "Let's Make Peace" by Kaila Shabat (p. 51) – "it speaks to me".
By the way, in the article on Suzanna Kaufmann, "The woman with plenty of time on her hands", there is a picture of a clock (the brown cased one) - it is identical to a clock on our wall and comes from my parents' home in South Africa. It is this clock I had in mind when I wrote my story – The Clock – for the ESRAmagazine Short Story Competition.
Thank you once again and "Kol Hakavod" on your excellent magazine.
Richelle Shem-Tov
Kiriyat Ono
Comments
No comments made yet. Be the first to submit a comment