Teens Have Rights!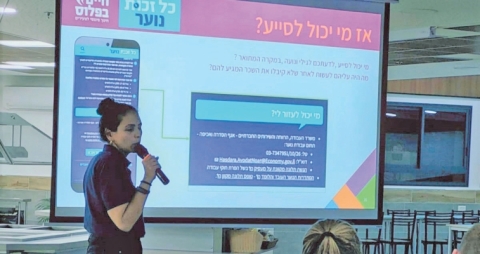 You're 16 years old, working at a catering hall, and the boss refuses to pay for your transportation to and from work – what do you do?
You're 17 years old, your Mom is sick, your Dad is laid off from work and there's a shortage of food in the house – who can you turn to?
You're 18 years old and your principal accuses you of cheating on your Bagrut exam – how can you defend yourself?
Welcome to Kol Zchut Noar (teen.kolzchut.org.il), a ground-breaking information resource jointly produced by the Ministry of Justice, Ministry of Education and Digital Israel. Aimed specifically at teenagers, the user-friendly portal is divided into 12 categories including rights in the workplace, health issues, helping one's family, joining the army, as well as legal and financial stepping-stones into the world of adulthood. All the topics are clearly explained, and contact details on how to get further information are provided.
Most impressive is that a team of lawyers and writers are constantly updating the website, and thus all the information is up to date. They even encourage the readers to send in their suggestions.
So how do you get all the Israeli teenagers to access this treasure chest?
Kol Zchut Noar enlisted Chaim BePlus, the financial education organization, to spread the word. This year, Chaim BePlus mentors travelled around the country giving workshops to over 600 high school students in 20 schools on how to use the portal.
One of the mentors, Liron Amar, who presented the workshop at Kfar Galim high school in Haifa said that "as part of the Kol Zchut Noar workshop, I taught the students about the minimum wage law. They had never heard of this. One of the students drew my attention to the fact that in the job he is currently working at, he earns less than what is required by law. I advised him on how to approach his manager and explain to him the rights he deserves. A few days later in the WhatsApp group that the students and I have, the student shared that he contacted his manager and retroactively got all the money he deserved according to the minimum wage law!
As a mentor, I got so much satisfaction knowing that my students will no longer be exploited."
17-year old Aviya, a student in Grade 11 at Talpiot Youth Village school in Hadera, reported back a few days after the workshop: "I was surprised to find out for the first time that standard practice in Israel is to exempt teenagers from paying service charges in our bank accounts. I contacted my bank and received back the money that they had deducted from my account!"
The youth resource is part of a wider portal called "Kol Zchut" (kolzchut.org.il) for all ages.
Recently an English section was added, full of up to date information regarding COVID-19, old age pension, disability claims, rights of new immigrants, and much more.
Getting into the habit of looking up your rights from an early age makes life simpler and saves hassles, energies and money.
Have you noticed that our kids and grandchildren are usually more tech-savvy than we are?
They can help us to access banking information, negotiate with the cell phone companies, and find out who to contact about our pension funds.
The teens who took the Chaim BePlus – Kol Zchut Noar training workshops certainly are qualified to help us…and help themselves exercise their rights.
Comments
No comments made yet. Be the first to submit a comment