Swedish TV Exec's Biggest 'Roll'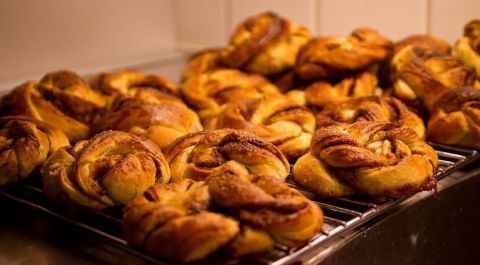 The Tel Aviv restaurant and food scene is constantly adding newcomers. One of the interesting newcomers is a Swedish bakery called FIKA.
Michael Rothschild worked for twenty years with TV production in Sweden, producing soap operas and advising TV stars in programs such as Paradise Hotel and Expedition Robinson.
He made aliyah in 2007 and continued working with TV production on an international basis. But the stressful life with frequent trips abroad started to take its toll and at age 40, Michael was longing for a more relaxed vocation where he could stay closer to home and his wife and their two young children, aged 3 and 6.
One day he was invited to a birthday celebration at some friends, and decided to bring a Swedish flavored gift to the party. He baked kanelbullar, Swedish for special cinnamon rolls, which he had loved so much to munch on while living in Sweden. It was an instant success.
The friends urged him to start making cinnamon rolls on a regular basis, so he created a web page and a Facebook wall and the word was out.
Soon, he started getting orders from the Swedish Embassy, from companies which had employee or customer get-togethers, and also from ordinary people who had heard or read about these special cinnamon rolls.
Several food bloggers wrote about "the secret Swedish bakery." And then one day, he was contacted by Michal Ansky, who is a judge in the Israeli version of Master Chef and runs the Farmers' Market in the Old Port of Tel Aviv.
She urged Michael to open a stand at the Farmers' Market. It was so successful that Michael couldn't cope with baking only at home. He hired capacity in an existing bakery, but after a few months he was taking up too much of that bakery's production and had to look for his own place.
He found a location in the Montefiore neighborhood in Tel Aviv, at 6 Tushiya Street, among mostly auto repair and industrial equipment shops.
I asked him: "Why there and not in central Tel Aviv?" He answered: "It is very difficult to get certificates for production facilities from the authorities like the Ministry of Health and the Municipality in central Tel Aviv. I also wanted a special out-of-the ordinary location for this special brand."
He decided to call the place FIKA, an untranslatable Swedish word which roughly means "drinking coffee, munching treats and chatting with your coworkers or friends in a relaxed atmosphere."
He soon understood that it was not enough to have a single product, and via YouTube and the Internet he taught himself how to make rolls with cardamom and saffron, Mazarin tarts and Swedish- type breads.
Today, the bakery carries even more exotic pastries, like the Vacuum Cleaner – a chocolate-covered pastry filled with almond paste – and the Coconut Mountain – a creamy coconut pastry formed as a pyramid tower. Each roll or pastry carries the original Swedish name, and the walls of the bakery and cafeteria are covered with pictures of Stockholm.
Almost all pastries are dairy. The production carries a kashrut certificate from the Tzohar organization – all the breads are technically pareve but are designated as beheskat halavi (assumed to be dairy) since they are baked in the same oven as the rolls.
Within a few months, FIKA expanded with a cafeteria at the more centrally located 267 Dizengoff Street, and every Friday they still maintain a stand at the Farmers' Market.
Michael is proud of another achievement – the company relies heavily on teamwork to get where they are today and now employs some ten people, six of whom are new immigrants from Sweden.
Asked about his future plans, Michael responds: "I am currently so busy with the existing locations and will be satisfied if what we've built so far will be successful financially. I really haven't had time to contemplate other plans yet. Maybe more locations, maybe franchises, we'll see."
Tradition is spreading around the world
■ A traditional fika comprised seven different homemade cakes.
■ The Swedish fika-culture is spreading worldwide. The coffee-chain Fika in New York opened in 2006 and once had close to 20 branches but filed for Ch. 11 in 2018 and is down to seven. There are similar FIKA in London and Australia.
■ The international media has also noticed the Swedish fika phenomena. A BBC program in 2016 was introduced with: "In Sweden, it's obligatory to eat (sic) coffee and cake."
■ Fika in Israel: www.fika.co.il
Comments
No comments made yet. Be the first to submit a comment