Saba's Bargemitzvah Holiday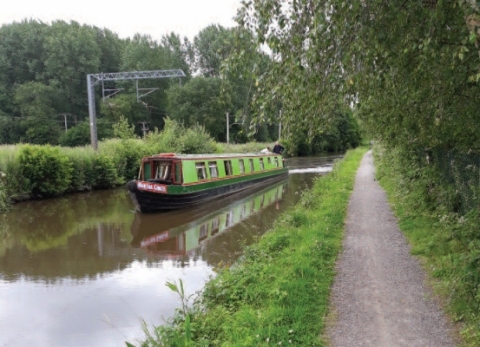 Story and photos

by Henry Gild
​
My wife Chippy and myself made aliyah from South Africa more than 60 years ago. We had served in the IDF, got married and settled on a moshav where we grew vegetables, planted fruit trees and started a dairy herd.
Our parents visited as much as they could. However, by the time she was 91, my Mom was the last remaining parent, and it became necessary for me to visit her in South Africa. Chippy and I decided that I would take our oldest grandchild, Roi, with me.
It was a wonderful trip. We traveled up the Garden route, climbed Table Mountain and visited Robben Island, where the country started its freedom from apartheid thanks to two great leaders: Nelson Mandela and Frederik Willem de Klerk.
It was then that we decided that each of our eight grandchildren would get a barmitzvah trip, planned by us and taken with us. In the following years Chippy and I took Maayan to Holland, Naama to London, and Nadav to South Africa.
Four years on, Chippy felt that it was hard for her to cope. So we thought of something new: I invited our children Karen and Chen, together with their respective 13-year-olds, Ido and Erez, to join me on the narrow boats on the canals of England.
We were to spend seven of our nine nights on Martha, a 70ft long, 6ft wide boat weighing 20 tons. Deciding which route to take was the hardest part, as there are more than 2,000 canals to chose from. After studying all I could find on the Internet, I chose the Caldon Canal, starting at Stone via Stoke-on-Trent, up to Leek and then down to Froghall (such names!) to visit Alton Towers, the largest theme park in England.
We began our adventure at Ben-Gurion Airport. Chen and Erez travelled from Kfar Tabor in the north, while Karen, Ido and myself arrived from Moshav Orot in the south. But in all the excitement, I discovered that I'd brought Chippy's passport instead of mine! No time to drive to Orot and back again, so a phone call to Chippy who found it and then a friend kindly rushed it to the airport for me. It arrived just in time . . . and then our EasyJet flight was delayed. As a result, the pilot and crew exceeded their flying hours, so we landed in Italy for a crew change. Eventually, we arrived late at night at Luton Airport, but our Holiday Inn Express was fortunately within walking distance.
After a leisurely breakfast we went by taxi to Stone – a drive of just over two hours. As we couldn't board the boat until 2pm, we explored the area and enjoyed a tasty lunch. The boat had three bedrooms, two magnificent toilets, a kitchen with everything you need and a living-cum-dining room that was just right for the five of us.
We set off at 5pm together with a guide to help us through the first two locks, which was quite daunting at first. We planned on passing through four more locks before stopping for the night. Some areas were designated private, and apart from those, you can stop wherever you want.
Our first night was heaven. We enjoyed a great meal with wine, and the boys enjoyed being on their own with their respective parent. We set off the next day after a lie-in. Our intention was to travel for 3 to 5 hours each day. In reality, our entire day was busy due to locks, sightseeing and preparing meals.
In the days of yore, the canals were the best means of transport by barges pulled by horses. All the canals have tow paths which today are used for walking, running or cycling. The canals are beautifully landscaped, and many of the barges are privately owned or used as permanent homes or holiday homes moving from place to place. All the long boats, including ours, are designed for cold and wet weather. Fortunately, we had the best weather – especially after the heat of Israel.
We had to turn right into the Caldon Canal. But guess what? We missed it, and by the next bridge had to turn 70ft Martha around. We hadn't yet learned where and how the turning spots worked. The Caldon is one of the most delightful waterways in England. We climbed 40ft until we reached the summit, and then began the descent leading to Leek and afterwards through the Churnet Valley, passing the old valley railway.
We stopped at a pub to experience pub grub together with a choice of ales. Just before reaching Froghall Basin we passed through the Froghall Tunnel, which was quite an experience. The next day we went by taxi to Alton Towers, especially for the boys – but even yours truly, who thought he was 18 and not 78, enjoyed it. What a park! What rides! Words can't describe the imagination of the designers who made each ride as fast and as frightening as can be.
On our way through the canal, we visited the Cheddleton Flint Mill. A volunteer kindly gave us the full tour, operated the water wheels which turned the mills, which broke up the flint brought all the way from the south, in Cornwall. On our return, we toured the Wedgewood china factory. It's unbelievable what goes into the making of china. Bone china is made from crushed bone, and hand-painted plates with gold leaf take days to finish. Each plate can sell for as much as £1,200.
We headed back along the canal – never boring to see it from the opposite side – on a two-day trip to Stoke. It was the end of a perfect seven days, which I can recommend to anyone willing to work their way there and back. We said a sad farewell to Martha and headed back to Luton. The children and grandchildren took a taxi to the capital for a See London bus tour and a few other sites. Next day they headed back to Tel Aviv, while lucky me flew to A Coruna in Spain to join friends for a sail down the Spanish and Portuguese coasts.
I'm hoping next year to holiday with grandchild No 7. Our goal? To watch the UEFA Euro 2020 football championships at Wembley.
Comments
No comments made yet. Be the first to submit a comment