Reviving the Classic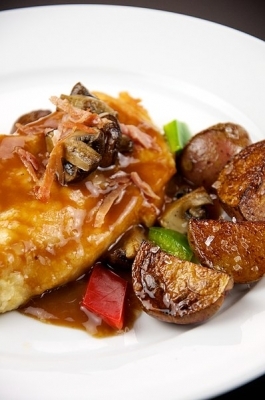 Whenever an American customer of 'a certain vintage' comes into the store looking for telltale ingredients like capers, or red wine vinegar, I ask with interest if they intend serving 'Chicken Marbella'.
Bingo...I hit the jackpot every time.
While these surprised-looking customers assume that I possess mysterious, mind-reading powers, it's actually NOT that hard to reach this conclusion.
First served at New York's Silver Palate gourmet deli, Chicken Marbella's huge appeal led to its creators Sheila Lukins and Julee Rosso penning the bestselling Silver Palate Cookbook, and this iconic dish became a staple at 1980's New York dinner parties. More than 30 years later, this sublime recipe with aromatic blend of prunes, olives, capers, white wine, brown sugar, and herbs continues to enthrall and, as it is prepared ahead of time and sits happily on a platter without spoiling, it regularly features at Shabbat dinners and festive meals.
Recipes inspired by Marbella magic abound. Some cooks add artichokes and sun-dried tomatoes. Chicken Marrakesh - a similar dish using dried figs, apricots, black olives and green peppercorns - found fame too. Even world-renowned Israeli chef YotamOttolenghi released a recipe that he admitted was based almost entirely on this 80's gem.
I've been making this timeless classic for the past 25 years and, despite knowing exactly what it tastes like, my mouth waters at the mere thought of eating it again.
I think today's column calls for a Chicken Marbella moment of my own....enjoy yours.
CLASSIC CHICKEN MARBELLA
Ingredients
1 1/2 kg chicken pieces (see notes) 6 cloves garlic, crushed 4 tablespoons dried oregano, Coarse salt and pepper to taste, 1/2 cup red wine vinegar, 1/2 cup olive oil, 1 to 2 cups pitted prunes, 1/2 cup pitted green olives, 1/3 cup capers with a little of the brine, 6 bay leaves, 1/2 cup brown sugar, 1 cup white wine, Finely chopped parsley,
1: Combine chicken, garlic, oregano, salt, pepper, vinegar, olive oil, prunes, olives, capers and bay leaves in a large glass, plastic or ceramic bowl, and allow to marinate covered in the refrigerator overnight.
2: Arrange chicken pieces in a large, shallow baking pan and spoon over the marinade.
3: Sprinkle brown sugar over chicken, pour white wine around the pieces, and bake in a preheated oven at 180 C for 50 minutes to 1 hour, basting frequently with pan juices.
4: Using a slotted spoon, transfer chicken, prunes, olives and capers to a serving platter, moisten with a few spoonfuls of pan juices, and serve the remaining juices in a sauceboat.
Serves 6 to 8.
COOK'S NOTES: I often make this with skinned, boneless chicken thighs or breasts as I don't like serving chicken with bones. If using breasts, cut cooking time to 30 - 40 minutes, or they will dry out. I often include 1/2 cup halved, dried apricots with the prunes to add sweet, tart flavor. Of course, you could leave out the olives and/or capers if serving super fussy diners, but bear in mind that these can be pushed aside by non-olive/caper eaters, and it's delicious served just as it is. Great with rice mixed with thinly sliced, stir-fried vegetables.
Comments
No comments made yet. Be the first to submit a comment