Pangea - Heavy Metal out of Africa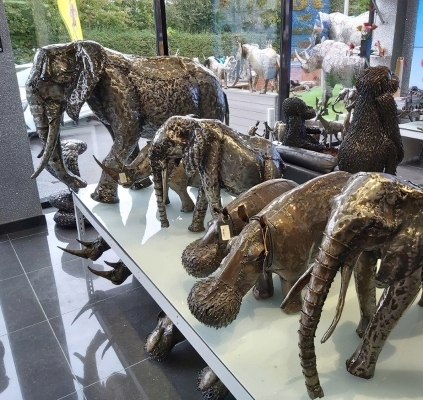 Strolling down a quiet, leafy lane in the small West Lancashire town of Burscough whilst recently visiting family, this writer did a double take, quite literally, at the sight of two giraffes guzzling on the lower branches of trees in a private garden on the other side of a high and neatly clipped hedge.

Unreal, one mutters to oneself whilst quickly whipping out the camera and snapping what turned out to be truly unreal - the giraffes being a pair of high-rolling metal creations made by artists in Kenya and shipped out of Africa to Britain by Pangea Sculptures, a company headquartered in the historic Lancashire market town of Ormskirk, a short journey from Liverpool.
A visit to Pangea Sculptures a few days later proved to be an amazing experience, a true out-of-Africa and almost out-of-this-world experience in actual fact as my niece and I, both of us on the rather short side, walked between massive sculptures of almost every animal that one would imagine finding in a jungle, swampland or out on the open plains of that fascinating continent.
A large sign outside the extensive Ormskirk Pangea Sculptures premises that house a multitude of metal sculptures big and small, already gives one an idea of not only the creativity but also humor housed within, and also spread out over a number of open forecourts - even in the parking lot.
Situated at the feet of two very cute elephants, seemingly hanging on for dear life atop a high metal pole, the sign declares boldly: Our Prices Won't Bite!
The animal sculptures are made by artists in Nairobi, Kenya where super-talented craftsmen recycle metal from discarded items such as oil drums, car parts, screws and nails, to create this metallic wonderland. Until an enterprising visitor to Kenya from Britain came across their magnificent and unique works of art, they were being created and sold only at the roadside.
In 2014, when in Nairobi visiting an elderly uncle, Ian Unsworth – nowadays the founder-managing director of Pangea Sculptures – also took time out to explore areas outside of the city. It was during a drive along a dusty road that he first saw the gigantic, lifelike sculptures standing at the side of the road.
He then spotted other likewise creations being fashioned by local folk nearby, their tools making an ear-splitting din as metal was hammered and fashioned, sending sparks flying everywhere as large and small pieces were welded together, almost like creating a massive, high standing jigsaw puzzle, their efforts eventually giving birth to yet another, absolutely loveable, work of art.
On that first visit to the region, Ian organized a 40ft long metal container shipment back home to England and the first herd of metallic, loveable elephants arrived in Lancashire – and sold almost immediately their feet touched British soil!
Thus began the Pangea journey, and over the years a close partnership developed between Ian and the artisans creating the finely detailed works that would be shipped out of Africa to Britain, the company eventually importing herds of elephants and giraffes, crocodiles, loveable monkey's, stags, rhinos, hippos, lions and adorable frogs amongst others, some of whom eventually ending up adorning gardens, or restaurants and business premises.
An organization known as the Ark Collective was created in Nairobi, led by designer and head artist Moses Ochieng, who has trained and guided talented artists, the collective now having a permanent staff of over 30 artisans and craftsmen, the creation of the workplace having had a huge impact on the lives of the people working there, their families and communities.
Prior to the formation of Pangea most of those now employed at the Ark Collective had never before earned an income and although their children go to school for free, books and other necessary items – including uniforms – need to be purchased by parents.
The successful partnership between Pangea Sculptures and the Ark Collective in Nairobi has brought about the possibilities of their purchasing essential medical and other supplies for members of the community and to provide better care for elderly folk and far more.
The unique sculptures were being produced in the most basic, and rather unsafe, conditions when Ian Unsworth first met with Moses Ochieng. But, everything has changed considerably over the years with the increased workforce, development of suitable facilities, better safety equipment and updated professional tools.
Plans are in hand to construct a new large workshop close to the original site of the roadside animal creators, with high hopes that the new complex and focus on village life will not only sustain the community of over 400 but also potentially positively change the lives of many more.
Back in Ormskirk, Ian Unsworth's successful business venture earmarks 30% of their annual profits toward attaining Moses and his collective's objectives as well as also supporting and raising funds for many diverse charities in the U.K.
Comments
No comments made yet. Be the first to submit a comment