Now the Young Ones Show Spirit of Care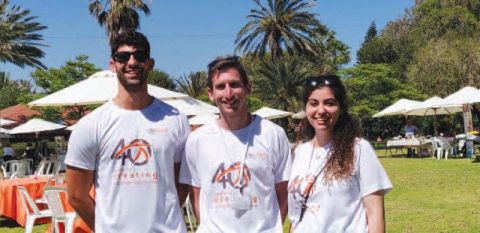 "Volunteers do not necessarily have the time.
They just have the heart."
This inspiring quote by Elizabeth Andrew epitomizes the spirit of volunteering. And since ESRA and volunteers are synonymous, we are all part and parcel of that same heart – of giving our time altruistically to help others. Surely one of the highest humanitarian ideals.
Having just celebrated its 40th anniversary, ESRA can be proud of their hundreds of volunteers across the country giving their time, love and effort, some daily, to myriad objectives and needs. Many ESRA volunteers are retirees or semi-retirees, but not only, apparently. Volunteers also come from the younger ranks of society such as university students who are en route to starting their life careers. What fabulous values they learn through volunteering which can only elevate their contribution to their fellow-man in the future.
The relationship between IDC (Interdisciplinary Center) students and ESRA began many years ago, but only expanded seriously about two years ago through the efforts of ESRA's CEO, Sunny Marshansky. IDC Herzliya was founded in 1994 and is based on the model of American Ivy League Universities. It is an independent non-budgeted academic institution with 8,000 students, including 2,000 international students from 86 countries around the world.
ESRA IDC student volunteers come from both the Raphael Recanati International School and the Interdisciplinary Center. This year, ESRA has welcomed more than 50 IDC volunteers from all over the world who are studying communication, philosophy, business and diplomacy. The students volunteer in a range of ESRA activities, such as the secondhand shops, projects and programs, magazine distribution, events, memberships and administration.
The success of their integration is evidenced by some of their enthusiastic reports:
Shani Oz moved to Israel from Los Angeles, CA to study Psychology at IDC. "I had to volunteer for 30 hours to fulfill the requirements of the Masa scholarship I received. I found ESRA through a friend and am grateful that I did. Volunteering with ESRA has been such an amazing experience. Every single staff member that I encountered, worked with, or volunteered with has been incredibly nice, understanding, and kind-hearted. Through ESRA, I met people from all over who attend the same university as I, and am honored to have had the opportunity to volunteer alongside them. I will definitely continue to volunteer. Thank you ESRA!"
Michel Meiler made aliyah from Caracas, Venezuela, and is a 3rd year student studying Government. "Thank you for all your help and patience while I completed my volunteering hours. I really enjoyed my time at ESRA."
Debora Nasser, 21, made aliyah from Brazil in 2017. "I am currently completing my studies in Business & Economics in IDC. I have been a volunteer with ESRA since my 2nd year. Initially I helped in Raanana`s secondhand shop by organizing the stock, five hours once a week. In my 3rd year, I volunteered over two months in the national office, helping out with general office assistance. This experience was really special since I helped such a large and well-known organization. Thanks ESRA for the opportunity!"
"He Who Gives Freely, Gains Even More…" Tehillim 11:24
Comments
No comments made yet. Be the first to submit a comment