Neighborhood Artist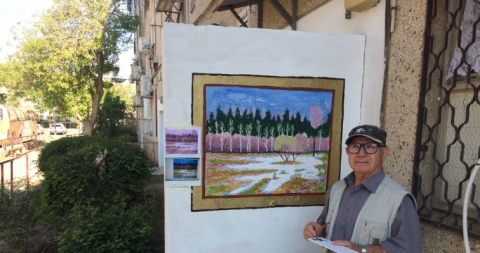 I was surprised to see paintings of ships on the walls of an apartment building in Arad and wondered who the artist was. And then I met Alexander Bainov. He introduced himself to me while I was working in our building's flower garden. He thanked me for making the area look better with flowers, and gave me a beautiful painting of vases for me to mount on the wall of our building. A few weeks later, I was fortunate to find him painting another picture of ships on the walls of his apartment building.
We have become good friends even though we cannot speak to each other because he does not know English and I do not know Russian and neither of us know Hebrew that well. He appreciates what I am doing with the flower garden and I appreciate him using his talent to add something of beauty to his building.
I wanted to get to know him, and to share his story with others. I found a young man, Anton, whose mother lives in our building, and is fluent in both Russian and English. He was not working, due to the Coronavirus, so this was my opportunity to interview Alexander with Anton at my side translating for us.
Alexander was born in Moscow, Russia in 1938 to a Jewish mother and a Russian father. Even though times were hard during the war, his mother helped him learn what it meant to be Jewish. They observed Shabbat and were able to attend a synagogue after World War II . During the war, his father was the manager of an alcohol distillery and evidently was so highly valued for his work that the government exempted him from serving in the army. After the war, in 1945, his family moved from Russia to Belarus, where Alexander grew up.
Alexander met his wife Eliana while studying engineering in a technical college. Right after they were married in 1958, he was drafted into the Russian army and served as a paratrooper, but fortunately did not see any action in war.
In Belarus during the 1990s there was a high level of anti-Semitism which made it very difficult for Jews to get work, as well as making life very unpleasant. Alexander learned of other Russian Jews leaving to live their lives in Israel. When he made an exploratory trip to Israel and to Arad, he was pleased with the nice weather and was surprised to find so many Russian immigrants. He felt that this was a community that he would enjoy living in, and began the process of making aliyah with his wife and daughter in 1996. He was able to sell his properties and collect his assets for the greatest move of his life.
Before Alexander immigrated to Israel 24 years ago, he had not done any painting. However, there was art in his family. His brother, who still lives in Belarus, studied art professionally. Perhaps Alexander's studies in Engineering and his years of working with blueprints for special metal work were an indication of his potential as an artist.
He has always been interested in art and culture and was inspired by the famous Jewish artist Marc Chagall (also born in Moscow), who escaped from Nazi-occupied France to safety in the United States and returned to Paris after the war.
While enjoying the clean air and warm weather of Arad, and mixing in the large Russian community, Alexander found others who admired Chagall. He led a group of citizens promoting culture, art, and photography in Arad. As a result, many Russian immigrants are trying their hand at art, photography, and other cultural activities. They have organized community exhibits for local artists, and once a year celebrate Chagall's birthday.
As a pensioner in Arad with time on his hands, and as the leader of the new cultural group, Alexander wanted to contribute more to the life and the beauty of the community. This led him to start painting in 2017, twenty-one years after arriving in Arad and he has been painting ever since. Although he admits that he is an amateur, others appreciate the beauty of his paintings. Most of the paintings on his building are of ships. When I asked him about the reason for this, he said that it was mainly because in the Negev there is very little water and no place for ships or boats. He felt it was uplifting for folks to see pictures of ships and water. His interest in boats and water probably stemmed from when he lived in Belarus and built a boat on a waterfront summer property he owned.
Alexander has also become well known in the community for his photography. He also used his time and artistic skill to help build the Holocaust memorial in the Avishur district of Arad where the Holocaust Memorial is held each year.
Alexander hopes that Arad will allocate more funds for the development of art and culture. His message to the younger generation of Arad is that they need to imbibe the fact that this is their city and community, to take more of an interest in culture and beauty, and work at making their community better. He is certainly setting a fine example - recently, I noticed that he is painting on the walls along the city streets to provide beauty for people to look at as they walk along the sidewalk.
Comments
No comments made yet. Be the first to submit a comment