My Grandfather's Shop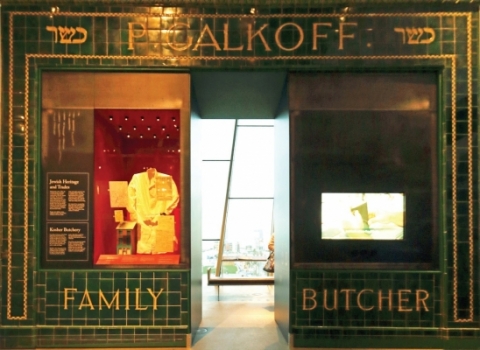 Are any of you readers ex-Liverpudlians? If so - and you're old enough - you may remember P. Galkoff's Butcher Shop of 29 Pembroke Place which supplied kosher meat to the thriving Jewish community of Liverpool.

Percy Galkoff was my grandfather. He was born in 1877 in Warta, a small town in Poland.
He was conscripted into the Russian Army from which he was discharged in 1904 and leaving his family behind - he made his way to England where he settled in Liverpool.
There he opened the butcher shop which became a recognizable location and gathering place for both locals and newly arriving Eastern European Jews. Percy quickly advanced to become a prominent member of the community and a successful businessman, attracting both Jewish and non-Jewish clients and supplying kosher meat to Liverpool's shipping lines.
He was the first butcher to have a refrigerator, cooled by ice, and the interior also boasted three-inch thick marble slabs.
As his business grew, Percy realized that he needed a more striking shop front and so in 1933 he commissioned the majestic art-deco green tiled frontage with the sign: "כשר" "P. Galkoff Family Butcher" in gold lettering.
After Percy's retirement the shop was run by his son, Sydney, until its closure in 1979. It was listed in 2007 by the National Heritage List for England "principally for the survival of a nationally unique Jewish butcher's shop front, set within a late Georgian house, the explicit display of Hebrew lettering in such a context being very unusual and an eloquent reflection of Jewish identity in Liverpool at this time."
In 2013 the shop was bought by the Liverpool School of Tropical Medicine. In 2015 it was announced that they hoped to preserve the frontage and place it on display at the Liverpool Museum – one of the country's most visited museums outside of London. This meant that future generations would be able to find out about this remarkable building and what it means to Liverpool's heritage and its Jewish community.
In May 2017 I attended a Galkoff Family Reunion in London, meeting cousins I knew and some I'd never met. My cousin Ivor Galkoff and I, the oldest grandchildren of Percy and Bertha Galkoff, recounted memories of their home in Southport, Lancashire – the family's center for Shabbat Kiddush, Pesach Seder and post-Yom Kippur meals.
Ivor's son Lawrence reported on the progress of the restoration project, which was dependent on an award from the National Heritage Lottery Fund.
In July 2017 the award was granted.
In October, Lawrence joined the project team on a productive research trip to Poland to uncover historic photographs and documents detailing the Galkoff family history, as well as to paint a picture of the life Percy left behind.
The project now began. It aimed: to recreate the frontage of Galkoff's which involved removing and conserving the historic tiles from the façade; conducting an archaeological dig to uncover more remnants of the court housing nearby, researching the lives, business and homes of Pembroke Place and surrounding area, building up a better picture of what made this such a vibrant community from the 18th century onwards.
Over seventy volunteers queued to take part in the project. They worked in freezing winter weather to painstakingly remove the 855 tiles, clean, paint, grout, polish and replace them. Their efforts resulted in an impressive life-size reconstruction of the frontage of Galkoff's, returned to its original finery, on display at the Liverpool Museum as part of an exhibition which would reveal "The Secret Life of Pembroke Place".
The opening of the exhibition took place in October 2018, attended by representatives of the Galkoff family from England and Israel. It will remain in place for five years with the National Museums Liverpool Group pledging to store and maintain it indefinitely.
Percy Galkoff, my dearly loved grandfather and integral part of my childhood, died in 1959 two weeks before my wedding … but his name and heritage live on.
Comments
No comments made yet. Be the first to submit a comment