"Mom, Dad, I have something to tell you...."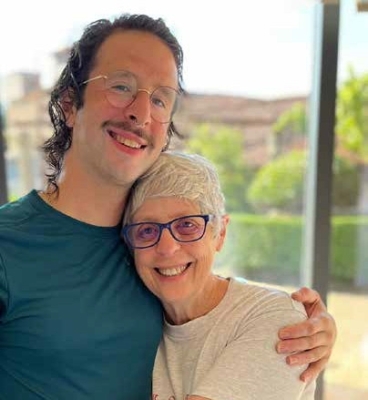 ESHEL, a local group, supports English-speaking Orthodox parents of LGBTQ children

Mindy Sager Dickler, a retired special education teacher, was living a typical Modern Orthodox Jewish life in Baltimore with her husband. Her three children had left home when her youngest, Elie, surprised them by coming out of the closet at age 19 during his first year at university.
"We had no idea," she says. "Our initial reaction was shock. Initially, we didn't know any other Modern Orthodox families in this position and I didn't want to be perceived as someone who had a blemish in our family. We fit into the 'normal' box, and this was something different."
"Of course, we said that we loved and supported Elie, but even though a parent loves the child, internally there is a process to go through. There is often a sense of grieving for the future you thought your child would have."
Mindy had a lot to learn. Not feeling comfortable with a label or fitting into either category, Elie does not identify as gay, but as non-binary. Elie uses the pronouns "they" and "them" rather than "he" and "him" as do many in that position. All this was new and strange.
"No one was a role model for us. Initially, I only told a few friends who I thought would be understanding and supportive. One dear friend told me that one day, I would be able to say that I have a gay child without any problem, and he was right. That is my reality now."
Parents of gay children are often in a perplexing situation. Nobody teaches them how to parent a child who is not straight, especially in an Orthodox community.
The kids may be leaving Orthodoxy, but the parents are staying. There's a saying, 'When a child comes out of the closet, the parent goes into the closet.' The kids expect parents to find it cool right away, but it can take a parent a while to process this new reality and feel comfortable sharing the truth.
There are plenty of potential difficulties. The two parents can react differently from one another, straining their relationship. Sometimes siblings are not told so that there are secrets in the family. In Haredi families, it can be much harder. Some believe that Reparative therapy, a form of conversion therapy provided to adults who voluntarily seek to change their sexual orientation or gender is effective; it is not. Sometimes a gay person will not come out until all the siblings are married, so as not to hurt their chances of finding a shidduch.
Searching for a support group, Mindy contacted Jewish Family Services in Baltimore. "The people there said that there was no such group, but if there was interest, they would start one. It never happened."
She then joined a group called PFLAG (parents and families of lesbians and gays) which was non-denominational. "It was comforting to know that I was not alone, and that Catholic families were also going through the same thing, but I felt I would be more comfortable in a Jewish group."
"So, I started to lay the groundwork for such an organization in Baltimore."
Meanwhile, she joined a national organization called ESHEL, which was initially organized as support for Orthodox LGBTQ people, and which later expanded to include parents who also needed support and a sense of community. There are 15 ESHEL chapters in the US and Canada and they seek partnerships with other established organizations.
In 2014, Mindy attended an ESHEL retreat, which was "an amazing experience. Everything was confidential and private, to the extent that some parents used a pseudonym." The members, she says, are like a family because of the intimacy of sharing.
"There are so many issues to discuss. For example, a straight daughter is getting married and doesn't want the gay sibling's partner at the wedding. A gay child wants to get married – who will conduct the ceremony? How do you tell the grandparents?"
When Mindy and her husband came on aliyah last year, to join their two daughters, they wanted to create the same thing here. She researched and found that although there are other organizations for parents in Israel, there were no support groups for English-speaking, Orthodox parents. Mindy does speak Hebrew, but says that "if you're talking about something near and dear to your heart, you want to speak in your native language."
The local group now has about 12-15 members who meet on Zoom and is open to anyone who would like to join.
On a personal level, Mindy says that since Elie came out, she has changed.
"Absolutely. I have become much more open-minded. I didn't realize that I harbored feelings of bias towards gay people, until my child came out. Elie is one of the finest people in the world and through Elie, I have given up stereotypes.
ESHEL This email address is being protected from spambots. You need JavaScript enabled to view it.
Tel: 1-724-3743501
Comments
No comments made yet. Be the first to submit a comment