Limor Gilad Ulukaya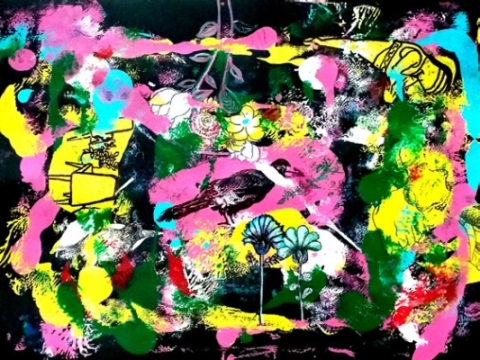 An artist immigrating between addresses and styles
I assume that a good number of our readers are unfamiliar with the work of Limor Gilad Ulukaya, an Israeli artist currently living in Turkey. It was Liora Blum, the magazine's creative art director, who introduced me to Limor (they both had studied at the WIZO Hadassah art academy in Haifa). We spoke via WhatsApp but thanks to Limor's warmth and openness, I felt as though we were sitting in my living room. These characteristics may, in fact, be two of the keys to understanding Limor's work, an example of which appears on our cover.

In the beginning
One of the first questions I asked Limor was what led her to live and breathe art. She candidly admitted that as a child growing up in Haifa to very busy parents, she had turned to drawing as an activity that could help her cope with loneliness. Drawing also led to a distinct identity within the adult world around her. Thanks to her "hobby" she became more than just another "kid on the block". The afternoons she spent with her paints and pencils may have prepared her, I would imagine, to enter time at her easel to her daily schedule.
Like many sabras, Limor has not spent all her life in the same place. Being open to people and new cultures made it easier for her to adjust to different locales and ways of life. To illustrate, she worked for several summers as housemother to changing groups of Israelis on a ship cruising the Mediterranean. After completing her education, she taught in a Haifa high school, which included a stint as coordinator of its art studies program. This was followed by a relatively short period when Limor used her skills in the field of graphic design. In the interim, she married Akil Ulukaya, who she had met while window shopping in Turkey during her cruise days (a very romantic story). The couple spent some time in Turkey but moved to Israel together with their daughter; Limor had decided that the Turkish attitude toward women didn't suit her despite her love of the country. In 2016 Limor decided to leave the standardized world of education and concentrate on her art, which she has frequently shown in both Israeli and Turkish galleries.
Four years ago, Limor moved with her family to the village of Urla in western Turkey. Her purpose: escape from the stress of Israeli life to treat her body and her spirit with a more-serene environment. Being the daughter of a sixth-generation Israeli mother and strongly identifying herself pro-Israel might have made the decision difficult but Urla, where Akil's parents lived, was too perfect: A 30-minute drive from Izmir, the village lies in a region considered the Turkish equivalent of Tuscany, further blessed by beaches edging along the Aegean Sea. You therefore find yourself in a region where vineyards and ancient ruins dot the land on one side, and the Gulf of Izmir, with its busy port, situated on the other.
Limor's art: A lifelong exercise in spontaneity and movement
Limor's art, the media she chooses to work in, her techniques, colors, as well as the organic forms (e.g., people, angels, wildlife) sometimes barely visible between her brush strokes, reflect her conscious as well as sub-conscious experiences. She is also very receptive to her feelings and, in her words, the "unity between herself and her materials". The very process of creation — whether by carefully drawing perfect dots or filling her canvas with flowing splashes of color — ignites her imagination. She often makes xerox copies of those dots, or brush strokes, which she subsequently incorporates in her work as kernels for new works or as starting points for "destroying" a work in order to endow it with a new and better life. This practice, I believe, may have contributed to her tendency to produce works in identifiable series (or "capsules" as she calls them). When the inspiration she receives from the current themes, forms and materials ends, she stops to search for something new to spark her work (and next series).
When I asked why she works this way, Limor answered that she doesn't know. She never plans. She prefers to work intuitively in response to her inspiration. Her skills wait to be used. Limor, moreover, sees her art as a vocation meant to help and heal herself and others. Her feelings of connection with the Creator, not in any formal religious way but in spirit, frames her art as well as her belief in the unity of all matter.
For me, this faith partially explains Limor's other calling: work as a therapist and trainer as guided by the principles of IPEC (Integrated Physical and Emotional Clearing) together with Color Therapy and Kabbalist numerology (personal mapping). Her openness to people and their spirit can also be seen in her artistic development. Beginning with simple but dynamic brush strokes in black against a white background, she went on to use a soft pastel pallet. This was followed by painting in vivid colors with somewhat covert organic figures and forms waiting to be discovered. Continuing in this path, Limor now uses those same colors to paint visually thicker tapestries as backgrounds for clearly human forms.
Within the context of her life, these changes within varying degrees of continuity appear to reflect an artistic and perhaps personal receptivity to the differences between cultures. The same attitude of openness to change in her life and her work has made Limor Gilad Ulukaya a perpetual immigrant in some sense as she climbs toward greater creativity and self-expression.
Comments
No comments made yet. Be the first to submit a comment