Kay Wilson Receives AIC's Impact Award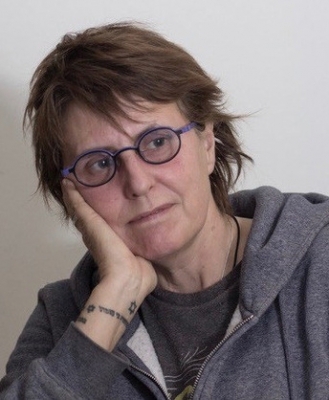 Written by Lee Tanenbaum and Wendy Kalman

In a moving ceremony on January 31, 2021, speakers gathered online to honor Kay Wilson as she accepted the Atlanta Israel Coalition's inaugural AIC Impact Award. Held on Zoom and streamed live on Facebook, the award was given two years to the day after the AIC's first event, the premiere of the Israeli documentary, Black Forest, directed by Hadar Kleinman Zadok and Timna Goldstein, about the brutal machete attack that Kay survived.

The AIC created its Impact Award to recognize a person whose life experience or vision has served as a catalyst for change, and whose words or activities have inspired others to act and have ultimately impacted perception of or life in Israel. Kay, a British-born Israeli tour guide, used the exercises in writing during her trauma therapy as the genesis for her book The Rage Less Traveled.
The first speaker, Karma Feinstein-Cohen, the Executive Director of World Magshimey-Herut and World Herut, thanked Kay for sharing her horrific personal story with the world with such intimacy and bravery. "I got so much from reading your book. I think the bravery is two-fold. It's to go through that horror and then to sit down to share it with the world to make the world a better place. For that, I cannot thank you enough. It changed me."
Raheel Raza, President of the Council for Muslims Facing Tomorrow, spoke of the enormous impact Kay and her book had on her. "… anyone who reads Kay's story and her journey has to be impacted, which is why it has to be circulated worldwide."
Craig Dershowitz, CEO of Artists 4 Israel, President of the Healing Arts Kits and Healing Ink, who knows Kay well, agreed. "This is one of the few books that comes with an airplane ticket attached, transporting you as close to Kay as anyone will ever be without feeling one of her hugs."
Ilan Greenfield of Gefen Publishing explained why he felt compelled to publish her story, saying that Kay's approach was one of "I'm going to tell my story but not for people to hate other people, but to make people understand that you have a choice in life to make this a better world by doing good things…"
This is what Kay has done. In speaking to audiences all over the world, Kay also became a fierce advocate lobbying Western governments to end the foreign aid that rewards terrorists. Kay is a survivor, but she is so much more.
In addition to being an author, a tour guide and an inspiration, Kay is also a musician. After speaker Dumisani Washington, National Diversity Outreach Coordinator for Christians United for Israel, paid homage to Kay and her tenacity, the founder and former director of Zion Academy of Music in Stockton, CA, performed a piece on the piano in Kay's honor. She not only thanked him, but requested the chords.
The award was inscribed with these words, "The AIC Impact Award 5781 / 2021 presented to Kay Wilson for your powerful memoir, "The Rage Less Traveled" (Gefen Publishing), a story of the resilience of the human spirit when tested to its limits and the courage that inspires others to spread the light of Israel and for your outstanding work as a peace activist fighting for human rights."
The recording of "Atlanta Israel Coalition's Inaugural AIC Impact Award" can be accessed on Facebook at https://fb.watch/3mYipyysml and on YouTube at https://youtu.be/aJc3ABFIwVs.
The Rage Less Traveled can be ordered through Gefen Publishing or on Amazon.
Comments
No comments made yet. Be the first to submit a comment