Israel's Travel Treasures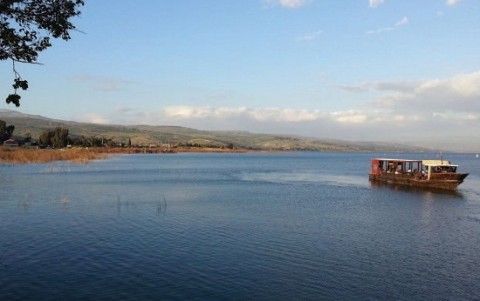 To celebrate Israel's 70th anniversary, tour guide ONNIE SCHIFFMILLER describes some of Israel's gems, both famous and hidden. They are divided by region and highlight restaurants, hikes (some wheelchair-accessible), cultural venues, workshops, and even a little shopping. So, pour yourself a glass of local wine, get comfortable in your favorite chair, and savor the ideas.
The North
Home Hospitality
Whenever people ask me why I love living in Israel, I always say, "It's the people." Fausia al Fahadi is a Druze resident of the Golan town of Magdel Shams. Enjoy an unbeatable home-cooked meal in her home and hear her unique story about life in Israel and how she has been affected by the Syrian civil war. Though parts of her story are sad, Fausia's infectious smile and warm hospitality will make you so glad that you stopped by her home. 050-448-7200.
Culture
When we talk about culture in Northern Israel, people think of the artist studios of Tzfat and neighboring Rosh Pina. But culture in the north can also mean the opportunity to meet some of the people making up the multitude of minority communities throughout Israel. The country only has two communities inhabited by Circassians, Kafr Kama and Rehaniya. The latter boasts a Circassian Museum where local residents serve as docents and provide insight into one of Israel's least known populations.
Outdoor Activities
The Golan Heights is home to wonderful hiking trails. If you want to be rewarded for your physical exertion, enjoy the Hexagonal Pool hike. The basalt rock formations are impressive and the natural pool at the bottom is a fun place to cool off.
We all love hiking in Banias or Tel Dan, which has a wheelchair-accessible trail, but what if you just want a quiet spot on the stream to relax and enjoy a bit of quiet reflection? Not far from these famous nature reserves lies Moshav Beit Hillel. Walk behind the cowshed and you'll find a short trail leading you to the banks of the the Snir Stream. And, if you want to stay on dry land, why not rent bicycles at Mifgash Ofanayim located in the middle of the moshav. The surrounding area is graced with flat roads that make touring on two wheels a pleasure for each member of the family. 04-689-0202.
And finally, the Golan Heights, while known for its mouth-watering produce and abundant wineries, is also home to Israel's strategic border with Syria. Learn more about the challenges facing Israel today by contacting Slingshot Israel. Its founder, Captain (Reserves) Yaakov Selavan, and his team create dynamic tours of wineries, border regions and hands-on activities such as urban warfare simulations that make a visit to the Golan a memorable one, especially for people who have been to the region before. www.slingshot.co.il
If you are near the Lebanese border and looking for an exciting and inspirational activity, call Eitan Oren of Kibbutz Malkiya. Born in Tel Aviv, Eitan headed north when he was 17 and never left. He has an infectious passion and love for Israel and its security. He'll take you in his jeep to places few civilians get to visit. You'll meet soldiers guarding our border and enjoy bouncing over paths as you navigate through the fields of the kibbutz orchards. 050-423-8300.
Lodging
One of the great benefits of a vacation in Northern Israel is the myriad of lodging options. There are several luxury options, but even if these are not in your budget, you can enjoy the North's beauty. One great option is Kibbutz Kfar Szold Country Lodging. It's just minutes from the more famous Kfar Blum and HaGoshrim Hotels, but much more economical, with lovely grounds and lots of picnic tables.
If you are looking for a romantic getaway, Mitzpe HaYamim Spa Hotel located in Rosh Pina, just minutes from the mystical city of Tzfat, offers tranquillity, massages and beautiful nature walks. The spa is also home to the excellent (not kosher) Muscat Restaurant for a wonderful chef restaurant experience.
And, if you prefer to relax on the Sea of Galilee, the new U Boutique Hotel in Tiberias offers a modern twist to a visit to Israel's third holiest city.
Food
Israel's restaurants have been praised by chefs from around the world. Even if you don't want a four-star dining experience, you'll have no problems enjoying delicious meals wherever you go. If you're near Tiberias, stop into Avi's (kosher), just steps from the Kinneret (Sea of Galilee). It's not the fanciest meal you'll ever eat but this traditional Middle Eastern stop is satisfying every time. If you don't keep kosher, Foccacia, located in the unassuming Gan HaTzafon Strip mall on Road 99, offers outstanding Italian-themed seafood dishes.
Along the Coast Between Rosh HaNikra and Caesarea
Culture
If you stay at the Effendi Boutique (or anywhere else near Akko in August) buy tickets to the Israeli Opera. This year they are presenting Christoph Gluck's Orfeo ed Euridice in the 1,000-year-old Crusader Hospitalier Fortress. You'll never see opera performed like this anywhere else. www.israel-opera.co.il/eng/?CategoryID=794&ArticleID=2794
Outdoor Activities
Israel's northern coast is famous for its Rosh HaNikra Grottoes. Descend in the cable car and watch the iridescent waters of the Mediterranean smash against the chalk-covered flint. Even more spectacular is to rent kayaks and try to paddle through the force of the strong current as it approaches land. To arrange an afternoon of kayaking, contact Udi Edelman 052-379-8610. If that's a bit intense for you, you can always kayak just a few kilometers south from the coast at Betzet Beach. http://kayaktours.co.il/en/trips/rosh-hanikra
Lodging
You don't have to imagine staying in a luxuriously restored Ottoman khan (inn). You can experience it yourself with a visit to the Effendi Boutique Hotel. Restored with the loving hands of Uri Jeremias (the famous owner of the nearby Uri Buri Fish Restaurant (not kosher), and under the supervision of the Antiquities Authority, this intimate hotel spares nothing when it comes to elegance. And, you're just steps from all the famous sites that Akko is known for.
Food
So many of us are vegetarians or have family members who refrain from eating meat. The Kosher MC2 in Bitan Aharon's Beit Rishonim east of Netanya, offers the perfect setting for a family celebration or intimate dinner for two. Housed in a 19th century Ottoman-style building, the tasting menu offered only a few nights a week is a treat for all your senses. 09-866-6707.
Familiar panorama of Tel Aviv
Tel Aviv and the Center
Tel Aviv is truly the city that never sleeps. You can walk into a bar at 3:00 AM and still have to push your way to the front to place your order. The city is vibrant, animated, and there is something for everyone. Here is just a sampling of the treats awaiting you:
Culture
Of course, Tel Aviv is home to great theater, dance and opera. The Cameri Theater and the Tel Aviv Opera housed in the center of Tel Aviv, and the nearby Habima Theater are all deservedly iconic cultural institutions in our young country. But have you ever enjoyed an evening of dance at the Suzanne Dellal Center for dance in the trendy Neve Tzedek neighborhood? The center, home to the Batsheva Dance Company, welcomes dance troupes across the globe to come and perform for Israeli artists. The campus includes four separate Ottoman-era buildings dedicated to dance. It's a great way to relax after a delightful day of touring. www.suzannedellal.org.il/en
One of the most unique cultural centers in Israel is the Na Laggat Theater (Please Touch) in Jaffa. It is home to two restaurants, one staffed by people with hearing impairments and one staffed by people with severe visual impairments, as well as stage productions featuring Muslim and Jewish deaf and/or blind actors who have created dynamic performances addressing the challenges they face in daily life. http://nalagaat.org.il/en
And, if you're looking for something a little bit lighter, the intimate Shablul Jazz Club in the Tel Aviv Port always has exciting performances. Grab a seat and a beer and enjoy the music.
We can't leave Tel Aviv without mentioning one of its most famous assets: its abundance of Bauhaus architecture. The Jews expelled from Europe included some of the world's most talented architects. Luckily for us, some of them made the difficult journey to the shores of British Mandate Palestine and continued building in the style taught to them by Walter Gropius. Come learn about the architecture and the people at the Bauhaus Center in Tel Aviv which offers tours of the White City as well as displays of the city's architectural development.
Outdoor Activities
Tel Aviv sits on Israel's coastal plain. That means it's relatively flat and perfect for light strolls and easy bicycle riding. Hilton Beach offers a lovely paved promenade where you can enjoy a perfect Mediterranean sunset while the locals play a game of Frisbee, or lay out a blanket to enjoy a tranquil ending to a hectic day. All along the hotel strip are places to rent bicycles and you can ride along the promenade and enjoy the coastal breezes on those hot summer nights.
A hydroponic farm on the roof of a shopping center? Yes, Tel Aviv has it. If you have a group looking for a fun and unusual activity, Living Green offers group workshops in hydroponic farming in the heart of Tel Aviv. And the views are outstanding. http://livingreen.co.il/en/urban-farming-israel-en
But if you're looking for something truly off the beaten path, sign up for Guy Sharett's Graffiti Art Tours in Tel Aviv's hipster Florentine Neighborhood. Guy is a resident of this Bohemian corner of the city, so he can tell you stories the way only a person intimately acquainted with a neighborhood can. While a born and bred Sabra, his English is excellent, and his tours are a great way to explore one of Tel Aviv's lesser known neighborhoods. www.streetwisehebrew.com/graffiti.html
Hotels
If you've been to Tel Aviv in recent years, you'll see that the skyline is dotted with cranes. Buildings are going up in every corner, and many of them are new hotels catering to families, business people and couples looking for a romantic escape.
One of Tel Aviv's most elegant hotels is the recently opened Setai Hotel. Housed in an Ottoman building overlooking the Jaffa Port, it will transport you back to elegant relaxation from a bygone era. The grand stone walls and sumptuous leather couches will welcome you back after a day of sightseeing. www.thesetaihotel.co.il/?setai_tel_aviv=setai-tel-aviv&lang=en
If you want to explore Tel Aviv with a few extra shekels in your pocket, the Arbel Suites Hotel is a great solution. It's only a block from the art galleries and boutiques of Dizengoff Street and only a few blocks from the beach. The rooms are equipped with kitchenettes, so you don't have to eat out at every meal and the included hotel breakfast will start your day with a satiated palate. www.arbelhotel.com
Food
People come from all over the world to sample the food of Tel Aviv. Tomes could be written about the extensive gastronomic offerings of the city. Here are a few you may not know about.
Liliyot was a famous Tel Aviv restaurant with a commitment to social action by hiring youth at risk as a way to deter them from life on the streets. This kosher meat restaurant now has a new name, HaMalka (the Queen), and a new owner/chef; Eyal Shani chef of the Miznon Restaurant and judge on Israel's Master Chef. He has continued the restaurant's commitment to helping young people get a start in the culinary world and the food is fabulous.
Sometimes we want ambience to enhance our dining experience, and sometimes we just care about the food. If you don't mind mismatched tables and silverware, Shimon Melech HaMarak (Simon the Soup King) is just for you. The kosher Yemenite-inspired soups are the only items on the limited menu, but, wow, will they make your taste buds sing! Just steps from the Carmel Market, Shimon offers the best soup in town.
Of course, you can't write about Israeli restaurants and not mention at least one place for hummus. The House of Hummus at 47 Allenby Street offers what many locals consider to be the best hummus in all of Tel Aviv. But if you want an elegant night out with beautiful décor, outstanding service and a mouth-watering menu, Meir Adoni's Lumina kosher meat restaurant in the Carlton Hotel is the place to make your reservations.
Nearby Jaffa is also filled with delicious places to eat. It may be well known, but the Old Man and the Sea (not kosher) in the Jaffa Port is still a great place to order a meal and watch the world go by. But go hungry, the portions are huge.
Finally, the most elegant dining experience in Tel Aviv/Jaffa is one that most people don't know about. Chef Hila Solomon's Spoons dining experience was located in Jerusalem for years, but this top-rated chef has moved her salon dining experience to Jaffa. If you have a group that you need to impress, Hila will create a menu (kosher dairy or meat) that your guests will be talking about for years to come. www.spoonssalon.com/
The gentle hills of Samaria are only a 40-minute drive from Tel Aviv. Here, Les Saidel has opened an artisan baking workshop in his own home. Have a great time getting to know Les while he explains to you the science behind some of your favorite breads. He offers several workshops and his visitors often say a visit to Les is a highlight of their trip to Israel. www.saidels.com
If you don't know exactly what you're in the mood for, try the Sarona dining and shopping complex. Wander through the Sarona Market filled with an ever-expanding variety of food options, both kosher and not kosher. And after all the hard work of touring, treat yourself to a drink in Sarona's Whiskey Bar. Down a flight of stairs, this bar offers a world-class variety of whiskey.
Jerusalem and Environs
Three thousand years ago, King Solomon, the author of Kohelet (Book of Ecclesiastes) wrote, "There is nothing new under the Sun." People who have visited the city before think they've seen and done it all. But Jerusalem is an unfinished canvas. After 3,000 years as the capital of the Jewish people, there are still more places to explore.
Outdoor Activities
Did you know that the Jerusalem hills are home to some of the best hiking in the country? Shvil HaMaayanot is a three-kilometer hike filled with natural springs; perfect for cooling off on a hot summer day. And if you are lucky enough to visit around Purim, head to Givat HaTurmusim (Lupine Hill) for a breathtaking splash of purple gracing the area around Route 375 for only about three weeks during the year. Both hikes are free and just a short drive from downtown Jerusalem
If you only have a few minutes, don't forget to stop at 10 Alfasi Street. Located in the Rehavia neighborhood, this beautiful pyramid-topped building is actually the tomb of Jason the High Priest from over 2,100 years ago. It's one of my favorite spots in the city because when you learn the story of how it was discovered, you really start to understand what it means to build a modern city on ancient land.
Spend some time meeting the people that reside in this magical city. Delicious as it may be to eat in a hotel on Shabbat, why not join a local family for an authentic Shabbat meal? Shabbat of a Lifetime will match you with a Jerusalem family so that you have the opportunity to experience Shabbat in a way that you might never have before. http://shabbatofalifetime.com
Culture
The Jerusalem Symphony has a well-deserved international reputation, but don't miss the theatrical offerings at the Khan Theater on David Remez Street Opposite the Tachana (Restored Train Station).
If you've been to the City if David or Tower of David before, both have new light shows that project the physical and spiritual beauty of our eternal capital.
Hotels
New hotels are opening all the time in Jerusalem. The city's tourism is booming, and people need places to stay. Two of the newest additions are the elegant Orient Hotel on Emek Refaim Street in Jerusalem's bucolic German Colony, and the Leonardo Boutique Hotel. The Leonardo is not in the center of town, but its location near HaNeviim Street, a spot located with historic 19th century buildings, is still just a short walk to the Old City.
Food
Jerusalem has grown from the time when ice cream only came in flavors of pink and yellow, and dairy restaurants served nothing more than pizza or pasta with red sauce. Now people make reservations days or even weeks in advance for some delightful culinary experiences. Here are just a few that may not be familiar.
Located in the hills of Beit Zayit in the Jerusalem hills, the Café Derech HaGefen offers superb dairy and vegan food in a beautiful setting overlooking the surrounding limestone mountains. And if meat is what you'd prefer, head to Pichonka in Nes Harim (20 minutes from downtown Jerusalem) for a stunning kosher meat meal with beautiful vistas in all directions.
Machaneh Yehuda is one of the most famous sites in Jerusalem. The open-air market is bustling with locals and tourists alike. Raise your visit a notch by touring with a local chef, or better still, get a group together and register for a cooking workshop right in the shuk. You'll shop for your own ingredients and then create your own sumptuous feast. And, if all you want is some ice cream, don't settle for anything less than the best homemade ice cream in town. Tucked into a small storefront on the edge of the shuk is Mousseline, a small French ice cream parlor that you'll want to visit again and again.
Finally, you must visit Chef Moshe Basson at his Eucalyptus Restaurant opposite Jaffa Gate. His charming personality and biblically-inspired menu is a Jerusalem treat that is not to be missed.
The Jewish Quarter of the Old City has an ever-changing variety of kosher fast food places to choose from, but if you're adventurous, the other quarters hold some wonderful dining surprises for you. The restaurants mentioned here in the other quarters are not kosher. Lina's Restaurant on the Via Dolorosa in the Christian Quarter is an inexpensive option for falafel and shawarma. And, if you want a stop with a view, Nafoura Restaurant on Latin Patriarchate road in the Armenian Quarter offers Middle Eastern fare in an outdoor garden with the Old City Walls as the backdrop.
If you have a hankering for falafel but want to avoid the traditional tourist spots, head to Shalom Falafel (kosher) on Bezalel Street. Many consider it the best falafel in town.
Gush Etzion
Outdoor Activities
The community of Neve Daniel has a lookout called Mitzpor Haelef. Standing 1,000 meters above sea level, climb the stairs to one of the most beautiful lookout spots in the country. Standing at the top, you can see Efrat, Bethlehem, Jerusalem, and, on a clear day, out to the Mediterranean.
And, if you like to hike or bike, the trails here are magnificent. Derech Ha Avot, the trail of the Patriarchs, is a great place to hike and imagine what it was like for Abraham to see this rugged land for the first time almost 4,000 years ago. For more Gush Etzion activities, go to the community's website at http://etziontour.org.il/tour/extreme-en/
Indoor Activities
Just 20 minutes from Jerusalem lie the communities making up the Etzion Block. Lost in 1948 and recaptured in 1967, these communities offer a number of fun and interesting activities. Born and raised in London, Mandy Broder offers great woodworking workshops for the whole family. http://etziontour.org.il/attraction/workshop-gush-etzion. And just down the street is Cleveland native David Katz, who opened the Pat baMelach Workshops where you can make everything from sourdough bread to pretzels www.patbamelach.com.
The Miracles of Southern Israel
Outdoor Activities
Some of us want to shout out our desire for peace. If our voices aren't loud enough, why not use a giant canvas to promote our desires? And if the canvas happens to be a concrete security barrier separating the Western Negev from Israel, so be it. Meet artist Tzameret Zamir on Moshav Netiv HaAsara. She runs workshops (with wheelchair-accessible bathrooms) designing ceramics that you can then glue to Israel's security wall separating the Negev from Gaza. She'll show you the beautiful grounds of the moshav and then you can glue your ceramic to the huge wall that says "shalom" on one side and "salaam" on the other. It's an inspirational morning you're not likely to forget. 052-597-1678
Our first prime minister, David Ben-Gurion, dreamt of making the desert bloom. He may be long gone but his dream lives on. Uri Alon of Talmei Yosef in the Western Negev runs agricultural workshops. He will show you the beautiful vegetables he and his team have grown in soil so sandy that most of the world deemed it unviable for agriculture. Visit his Salad Trail workshop and make a salad inspired by the vision of our Zionist forbearers. www.salat4u.co.il/
If you are a large group, make it a point to visit the Arava Institute. There you can learn about the center's involvement in promoting renewable energy, sustainable agriculture, transboundary water management and long-term ecological research.
The fun does not end when the sun goes down. Ira Machefsky, affectionately known as the stargazer of Israel, offers unique night-time astronomy tours of the desert sky in the fields outside of Mitzpeh Ramon. Far from the ambient light, Ira will delight you with his charm, warmth, and incomparable knowledge of the stars and planets that grace our sky. www.astronomyisrael.com
If you're already in Mitzpeh Ramon, how can you skip Desert Archery? It's great fun for the family, and if you can stop laughing long enough, you might even be able to hit a target. www.desertarchery.com
Culture
If you're lucky enough to visit Israel in February, head to Eilat for the Red Sea Jazz Festival. The festival attracts some of the best jazz musicians in the world.
Food
Before heading out to a night of stargazing with Ira Machefsky, treat yourself to dinner at Pangea Restaurant. This kosher establishment in Mitzpeh Ramon is family friendly with generous portions.
Thousands of Israeli flags are waving in the wind, in honor of Israel's grand 70th celebrations. They shout to the world that we are here, proud and ready to celebrate all that we have accomplished. So come and enjoy some of the seventy activities highlighted in this article. Come make our grandparents' dream your reality.
Onnie Schiffmiller Licensed Tour Guide, Israel with Love www.israelwithlove.net
Comments
No comments made yet. Be the first to submit a comment