Gunman Victim Gave to ESRA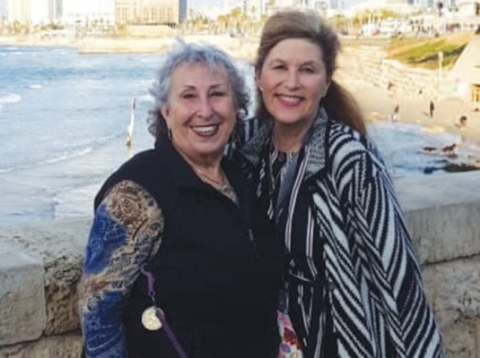 A woman who was killed in a synagogue shooting in the U.S. trying to protect her rabbi had, only months earlier, generously given money to ESRA whilst on a visit to Israel.
Lori Kaye, 60, is believed to have thrown herself in front of the rabbi to shield him from bullets when a gunman opened fire during this year's Pesach service at the Chabad of Poway Synagogue in San Diego.

Her friend, Amilia Lev, of Modiin, told ESRAmagazine: "It is still very hard for me to talk about my dear friend, Lori. She was the most happy, kind, honest, friendly, and generous human being."
Lori visited Modiin in December 2018 just after celebrating her 60th birthday. She met the newly-elected Chair of ESRA Modiin, Evelynne Cherny. "Lori asked me about the organization and I told her a little about it," recalled Amilia. Lori then pulled out her checkbook and wrote an amount for ESRA.
Said Amilia: "Lori fell in love with the city and planned to come back with her husband, Dr Howard Kaye."
Amilia and her husband Ovadia – both retirees – were in Poway when the tragedy happened. She recalled: "On the Shabbat of the shooting, Lori and I breakfasted together. We were planning to go to shul, but I had an attack of arthritis and was unable to attend. Lori went without me because she wanted to say Yizkor for her late mother. An hour later my daughter, Dr Roneet Lev, an emergency medic at Mercy Hospital, San Diego, called and told me there'd been a shooting, that the only victim was Lori, and that I was needed at the hospital."
She said that Lori's husband fainted when he discovered he'd performed CPR on his wife.
"After that, I did not leave Howard or their daughter Hannah. I stayed longer in America until everything was back under control, and Howard had returned to work."
The Levs had known the Kaye family for more than twenty years. "Hannah, is best friends with my granddaughters. We holidayed together. Lori was with our family for my granddaughter's graduation, and we spent the Friday meal together laughing and sharing memories."
The rabbi who was injured in the shooting lost a finger.
According to a news website, Lori was known for her amazing generosity. She gave six months' worth of medication to someone who didn't have insurance; she left challah in mail boxes and on doorsteps all over town, and donated to scores of charities.
Amilia said that Lori was a follower of articles by former UK Chief Rabbi Lord Jonathan Sacks, and "she collected quotes about friendship, beauty, and Judaism."
She concluded: "Lori, the angel who watched over us and all the Jewish people all over the world, is always in my heart."
Comments
No comments made yet. Be the first to submit a comment