Deal Me In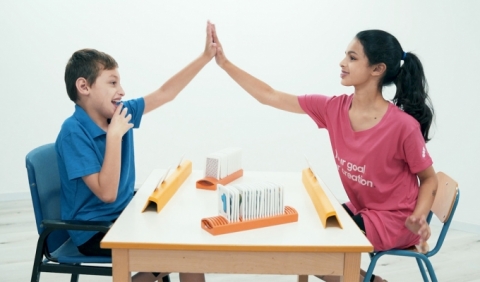 How players with motor limitations can enjoy card games
Orr Jaffe, 32, who has invented MagnaCard, a remarkable new tool which helps children with motor limitations play card games as independently as possible, has a first-hand knowledge of what it is to have special needs. She has ADHD herself and understands the social, as well as physical difficulties it can entail. "It was hard for me at school," she said.

Her empathy for others with difficulties developed early. "When I was in kindergarten, I played with twins who were blind, and I invented games that we could play together using touch instead of sight."
Later, in the Scouts (Tsofim) Youth Movement, she was a counsellor and leader, working with children with special needs. Her difficulty didn't prevent her from doing IDF service, and she spent 10 years in the army working in the field of communications and technology with the Givati Brigade.
Then she studied industrial design at the Holon Institute of Technology, earning a BA degree in product design. One of her projects was a prosthetic swimming aid for people who have lost a hand. It connects to their arm, rather like a spoon, and makes swimming easier.
At Beit Issie Shapiro, where she volunteers, she has devised Purim costumes that children in wheelchairs or on crutches can wear, and that incorporate their aids. "For example, for a costume of a cowboy on a horse, the wheelchair was decorated like a horse. For a supporter of the Maccabi Tel Aviv sports team who couldn't talk, I devised a kind of tape recorder in his crutches which he could press to hear slogans cheering on the team."
Orr knows that although school can be challenging for children with physical disabilities, life can be even more difficult when they come home from school.
"No one wants to play with them, because they are slower, or can't maneuver the toys in the usual way. So, they watch TV," said Orr. "It's sad."
That realization led to the development of MagnaCard.
It's clear that children with motor limitations can have trouble picking up cards in card games, holding them and dealing them. The components of MagnaCard enable players to play a variety of card games with little, if any, assistance. Then they can participate on equal terms with friends and family members and have fun.
It works like this: rather than being held in the hand, which requires a sustained grip, each card fits into a plastic frame. The frames have an integral hinge and snap together with a click. They stick easily to a magnetic board which hold the hand of cards in front of the user at the right angle so that it can be easily viewed by the player and is still hidden from the opponent.
The set also includes a holder for placing the deck of cards, standing up one behind the other, to reduce the cognitive, motor and visual demands for reaching and drawing cards.
MagnaCard is not just suitable for children; it is useful for elderly people with limited hand or arm movement and patients in rehabilitation.
Although Orr has a fully developed model, she has not yet found a company ready to produce and market it, though she is optimistic. "Parents I've showed it to at Beit Issie Shapiro who see their children's excitement have told me they are eager to buy a kit. They see that for the first time, children with motor limitations can feel part of a family game."

Comments
No comments made yet. Be the first to submit a comment