Cover Artist: Aurore Vigne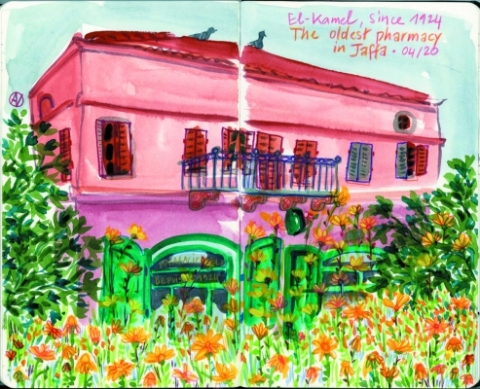 Interviewed by: Elana Shap
French artist, Aurore Vigne moved to Israel in 2011 and today lives in Jaffa with her musician husband, Ronan Steinbaum and children, Toam (10) and Naya (8). She is the illustrator of a recently published book, HAMSA a Loving Swan (Myths and Traditional Legends).
Q: Aurore, you have a degree in graphic design, illustration and photography and worked in corporate branding and communication in France, yet when you moved to Israel you decided to go back to art school and study etching, printmaking and silkscreen. What led to this change in direction?
A: After years of designing on computer I felt the need to feel the material again. To go back to my pencils, brushes and paper. I also became very involved in Urban Sketchers Tel Aviv which was the perfect way for me to get out in the open with my sketch book and tools and to draw directly from observation.
Q: Can you tell me more about Urban Sketchers?
A: We're a group that meets up to sketch in different locations around Tel Aviv. Anyone can join us, from professional artists such as myself, to those who are just beginning to draw. It's a wonderful way to meet fellow artists and to share experience and techniques. The date and location of the monthly "sketch crawl" is announced on our Facebook page and I invite all those interested to join us."
Q: Do you always carry a sketch book with you?
A: Yes, I love to sketch on my travels but also in my everyday life. I do a lot of sketching in Jaffa, where I live and work, and also in Tel Aviv and Jerusalem.
Q: What do you look for when you choose your vantage point?
A: I try to catch a special moment, to tell a story through the scene. This is not only about the place itself but also relating to people passing by or those who live in the area. Sometimes I describe an interesting situation. I feel very fortunate as this allows me to keep an attentive eye even when I am in familiar surroundings. I call this my "pair of hunting eyes".
Q: What do you try to convey through your art?
A: My work is generally colorful and tends to transmit humor or a certain poetry. I always try to find an unexpected point of view or way of thinking to offer a smile to the spectator or something to think about if possible.
Q: What affect has social distancing and the pandemic had on your artwork?
A: Practicing art with a community of artists is a primordial way for me to keep inspired and motivated. Not to be able to meet in art studios or during Urban Sketchers, or to travel abroad is of course very difficult. On the other hand, after the lockdowns we've been through, I am so grateful to have kept my will to draw and do sketches of my everyday life as they are a testimony of this crazy period. I also discovered on social media how other artists are expressing themselves on the same subject. This makes it a unique artistic experience.
Q: What is your focus in these works?
A: I painted my kids dealing with their zoom lessons, the old city of Jaffa becoming a ghost town and the lonely plants of my gallery that are usually used as a selfie backdrop by hundreds of tourists and are now finally blooming for their own pleasure in a deserted street.
Q: What are your impressions of the Israeli art scene?
A: What I find unique in the Israeli art scene is the diversity of artists from so many countries and different backgrounds. They bring with them their special touch and knowledge and are willing to share their passion so generously with other artists that it makes it extremely dynamic and interesting.
HAMSA a Loving Swan (Myths and Traditional Legends)
is a free adaptation of a famous Indian myth written by Martine Chemana and illustrated by Aurore Vigne. This story is the first one of a series that introduces the Mahabharata (one of the two major Sanskrit epics of ancient India) to western audiences.
Available in paperback and in ebook, in English and in
French (Hamsa Un amour de cygne).
Thank you Aurore for sharing your beautiful art and insights with ESRA.
Comments
No comments made yet. Be the first to submit a comment