Concrete Messages of Peace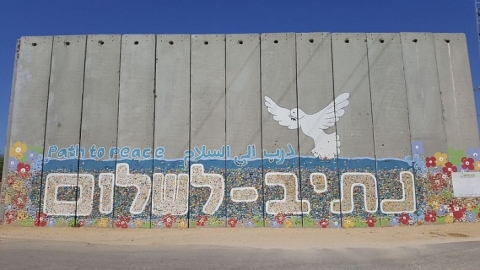 Israeli ceramics artist Tsamerit Zamir, a member of Moshav Netiv HaAsara in the north-west Negev, literally lives on the edge – of Gaza that is.
Tsamerit's home, and that of her husband and three children, is just a short walk from a section of the ominous 9-meter high grey, somewhat depressing but totally necessary, concrete wall erected between what are known as the Israeli 'Gaza envelope' communities and the Palestinian residents of Gaza.
Sitting on Tsamerit's slightly elevated spacious veranda with my back to the wall (not sure whether consciously or subconsciously), my gaze falls on a section of Tsamerit's garden. With a start I realize I am looking at a small collection of twisted pieces of Kassam and other rockets arranged around a tree trunk – real plants and a few ceramic flowers poking out of the top, the latter also glued on to the sides.
On the upper part of one meter long light- colored, split -sided after use metal cylinder is a very conspicuous white label, thick red borders on two sides. In English language capital letters one reads LIFT HERE (REAR UNIT ONLY) and although a very sunny, warm wintry day, I immediately feel a distinct chill and slight tightening of the stomach.
The impressive Netiv HaAsara home, art studio and visitors center of Tsamerit, who was born and raised in neighboring Kibbutz Zikim, would not have seemed out of place in any upper class neighborhood in most Israeli cities. However, not quite what one would expect to find within sight and almost immediate touch of the massive protective wall constructed after the 2005 pullout of Israelis from the settlements in Gaza and built on the 1949 Armistice Line.
A second equally dismal concrete wall of the same height was constructed close to Netiv HaAsara some years later, running diagonally to the first in some places, this one totally blocking from view – and Palestinian sniper fire - the homes of Tsamerit and her moshav community.
"Because Netiv HaAsara is built on a hill the original wall was constructed in the valley below leaving us clearly visible and totally vulnerable – we could see the Palestinians on the other side in higher places and for this reason the inner wall was built," Tsamerit explains. However, this has not stopped barrages of rockets fired from Gaza landing in and around the community and incendiary balloons igniting the crops of this extremely successful agricultural moshav.
All the bus stops throughout the moshav are concrete shelters, brightly decorated by locals together with the children. On one of those bus cum bomb shelters is a very powerful sentence … written wave like from top across to opposite bottom, the title of a popular song entitled, "Ain Li Eretz Acheret" (I have no other land).
In present times work is underway between the walls with the construction of yet another concrete obstruction, this time going down 90 meters underground and equipped with the latest hi-tech systems aimed at thwarting the ongoing efforts of the Palestinians to build tunnels from Gaza into Israel, under the wall and under the sea.
"On the one hand the wall is pretty daunting but then again it is there in order to provide security," explains Tsamerit as we set off to see the results of a project she began a few years ago and named 'Path to Peace'. The artist, who in the past witnessed the huge slabs of concrete being slotted together "like a giant jigsaw puzzle," then decided to combine her ceramic talents and burning wish for a more peaceful existence for all the people of the region, both Israeli and Palestinian.
For a number of years Israelis and many groups from abroad have been visiting Tsamerit at Netiv HaAsara to hear about life in the shadow of uncertainty - but at the same time how she has been creating art from the heart with messages of Shalom-Salaam-Peace on the repellent, but also comforting, concrete walls physically dividing them from the Gazans.
A huge dove, an olive twig in beak and created from hundreds of ceramic tiles hovers over the divide between the 'outer wall' and the 'inner wall,' but being as it is on a sort of bend, this can also be seen by Palestinians. However, on the outer portion of the inner wall – in clear view of Gazans in their houses a relatively short distance from us – thousands and thousands of brightly colored tiles spell out peace in different languages and form flowers, waves of color and much more.
The colorful tiles, coming in different shapes and sizes are inscribed with words such as happiness, joy, hope, friendship and even the ban-the-bomb emblem, all of which were prepared by Tsamerit in her studio. Visitors are invited to chose a tile from the hundreds on display at the visitors center and then follow Tsamerit – who dons rubber gloves in order to spread humus lookalike powerful glue on the tiles so that the visitors – with one eye on the original outer wall - join her on the Palestinian viewed side of the inner wall to place their individual tiles wherever they choose.
From this vantage point, in the uncomfortably close distance, high rise apartment blocks in Beit Lahia are visible and to the right of them, on a hillock, are low wooden buildings and a few watch towers looming above the wall. The apartment blocks are the homes of Palestinian Hamas officers and their families, the hill opposite a training area for Hamas. Through binoculars, an enormous Hamas green flag can be seen flapping in the beeze – far too close for comfort.
"Often there are loud explosions and the sounds of shooting coming from there, usually at night, and it is loud enough to keep everybody awake and on edge – which is of course their intention from the outset," explains Tsamerit as she spreads glue over a visitors preferred tile, this one inscribed with the word "Ahava," Hebrew for love.
Today, Tsamerit is welcoming, explaining and working with a group of Israeli pensioners from a well-established kibbutz in northern Israel. Many of them fought physically or were children during the 1948 war, pounded by an Arab army on their Jezreel Valley kibbutz of Mishmar HaEmek.
The large group included 91-year-old Shlomit Zeiger, who in 1948 manned a guard post on the perimeter of the kibbutz during a fierce 10-day battle in April, 1948, and Yoheved Efrati (88), originally from Beit Hashita but married to a member of Mishmar HaEmek who had lost his wife and young daughter during that attack.
Both women, firm friends who continue to work in the kibbutz sewing & laundry center to this day, chose to jointly affix a two inch tile of hope on Tsamerit Zamir's Path to Peace wall at Netiv HaAsara (Route of the Ten), named after ten Israeli soldiers who perished in a 1971 helicopter crash in Sinai.
"Whatever we think are the chances of seeing true peace in our lifetime, one should never give up hope," said the tenacious pair of kibbutz and army veterans.
Looming over the original wall just meters away and almost directly opposite the colorful wall full of ceramic decorations, an enormous metal dome with an array of protruding arms facing in the direction of Gaza cannot be ignored. In fact, it is rather reminiscent of a Star Wars or other Sci-fi film set, but of course it isn't.
"A number of I.D.F. female soldiers are stationed very close to where we are and they can see everything that is going on on the other side of the wall – it is all on screens in their position. Should it be necessary, they can set off those machine guns from where they are sitting, a powerful warning to any intending invaders," explains Tsamerit with a shrug as she pulls out another scoop of glue for yet another tile.
"Through thick and thin we here in Netiv HaAsara have come together and created a strong, vibrant, successful and very special community. In many ways I equate all the artwork on the wall with our ability, as individual families, to come together as one in times of need, to always support each other and keep working toward a more peaceful future both for those living on this and the other side of the walls," she concludes.
Comments
No comments made yet. Be the first to submit a comment