Bridge For a Worthwhile Cause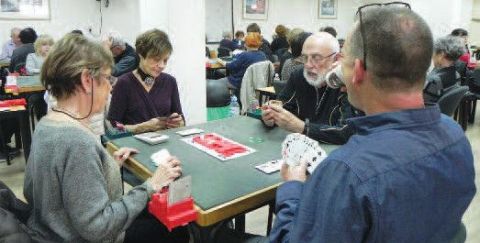 Photos: Barbara Slater
The highly successful bridge tournament organized by ESRA Ramat Hasharon took place at the at the Ramat Hasharon Bridge Club on March 19. The event was the brainchild of Irene Myron who recently joined the small committee of the resuscitated branch. She negotiated everything with Vered Mintz who, together with her husband Yakov, runs this well-known and popular bridge club. Vered generously donated both the venue and her services as tournament director.
Seventy-six bridge players, among them international and Israeli bridge luminaries, Eitan Levy and Motti Gelber, and ESRA members, turned out in support of the worthwhile beneficiary of the proceeds: ENOSH Ramat Hasharon. Michal Glimidi, its director, talked about ENOSH and the relationship with ESRA Ramat Hasharon. The participants in the Social Center, who are emotionally challenged, receive weekly, professional training in which they are taught the digital skills required in the modern world of technology. The project promotes their skills while building their self-confidence and belief in their ability to integrate into normative life in the community.
Ceramic items made by people at ENOSH were on sale at the event and the bridge players helped themselves to delicious light refreshments donated by Deli Cake (Zamarot), Arcafe (Neve Rasco), and Sharabani (Ramat Hasharon), all arranged for by Pamela Bank, another member of our small ESRA committee.
The winners of the competition were Lorette Greenberg and Jack Zinman (1st place) and Motti Gelber and Talia Lebel (2nd place). The winners received prizes of ceramics from Enosh and two paintings, donated by Ilana Ben Arie, were given to lucky number seat holders.
Barbara Slater, our reliable photographer and committee member, was on hand to record a pictorial chronicle of the activities.
Comments
No comments made yet. Be the first to submit a comment