Anything to Declare?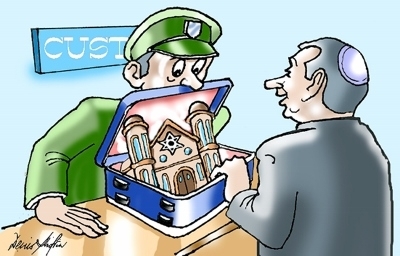 I had never really harbored any ambitions of becoming an international smuggler until one cloud-free summer evening in the early nineties.
I grew up in Sweden, became religious in my teens and immigrated to Israel in 1978. I was living in Raanana, when Jakob, a new immigrant from Sweden, came to enquire about job opportunities in Israel. He soon turned to his main concern.
"Do you happen to know anyone who would be interested in receiving a shul from Sweden, free of charge? I mean the entire contents, not the rented premises," he said.
"What a coincidence!" I was on the building committee of the congregation Lechu Neranena, and we had just started building a synagogue. So, yes we were interested. "But from where did you get a synagogue to give away?" I asked.
Jakob explained that his father had been the "all-in-one" - cantor, Torah reader and kosher slaughterer - in the small Jewish community in Kristianstad in southern Sweden. He was now 77 years old and wanted to make aliyah, but the synagogue's last functioning board had appointed him to find the synagogue a new home, as it hadn't been used for several years.
I was familiar with the synagogue from my childhood in Sweden. The furniture dated from the 1960s and comprised beautiful Swedish oak benches, seating around 60 people, with a matching bima and an Aron Kodesh - all with a matte lacquer finish accentuating the wooden texture.
Upon closer investigation I discovered that Israeli customs regulations would not exempt the contents of a synagogue from import duties, since back then the European Free-Trade Association, to which Sweden used to belong, did not have a free-trade agreement with Israel. The benches would fall under the general category of "used furniture", which carried a high import levy. In addition, the Israeli customs office calculated the levy on a so-called "landed cost", which equaled 110 percent of the total value, including transport costs. We would have to pay $12,000 in total, while some new manufactured synagogue furniture would cost around $20,000. Considering the fact that the Swedish synagogue furniture had been used for 30 years, this was not a good metziyeh - no bargain.
I contacted Bosse, a friend in Sweden, to help disassemble the synagogue. He decided to dismantle even the exquisite entrance door, which came complete with an integral steel scraper- plate that pushed the snow away when opening it.
With the help of a few workers, Bosse and his father put the furniture in temporary storage in the port of Helsingborg, 70 miles west of Kristianstad, while I tried to figure out an affordable way to get the synagogue to Israel.
Suddenly I realized that Kristianstad is just across the straits from Copenhagen. One of the synagogue members was tasked with finding out what duty would apply if the synagogue were to be imported from Denmark instead of from Sweden. Denmark was a member of the European Economic Community, which had a free-trade treaty with Israel. This meant that we wouldn't have to pay any duty to import the synagogue from Denmark.
We appealed to the Malmö community, of which the Kristianstad community was an affiliate, asking it to formally donate the synagogue to the Copenhagen community. In turn, that community would then donate it to us in Raanana. This roundabout way would circumvent the prohibitive customs levy. All parties involved agreed and we started planning for the shipment.
Another member had a brother who lived in Copenhagen and volunteered to help with the shipping formalities. Because of the cross-border transfer, I assumed that we had to move the shul furniture from Helsingborg to Copenhagen, a short boat ride across the Öresund straits on Sweden's southwest coast. To my delight, he informed me that Copenhagen's official container port was actually located in - Helsingborg! So we never had to move the synagogue from its bonded warehouse.
A week before the actual shipping date, my contact reported that he could not get the special customs form signed for the customs exemption. This is a formal declaration that the goods were manufactured in Denmark. As they really were of Swedish origin, we of course couldn't prove any Danish connection. But then, one of my contact's non-Jewish colleagues, who worked in the company's shipping department, hinted that he could help us ship the "Jewish church" to Israel. Being a keen drinker, he licked his upper lip and said:
"Do they have any strong, tasty alcoholic beverages in Israel?"
At the cost of two bottles of kosher Slivovitz, we finally got the missing form signed and the synagogue was on its way.
I never told the members of our synagogue the entire story about all the intricacies of smuggling. I didn't tell the leaders of the two Scandinavian communities involved either. I just told them that this procedure was needed for the customs paperwork to run smoothly; they were not aware that they were abetting me in my smuggling efforts. I regret this, but I can't ask them for forgiveness, since they both passed-away several years ago.
In Israel I tried to contact the Ministry of Religious Affairs to get an official import license, but was amazed to find out that there was no such customs clause. You could import a Torah scroll free of duty, but since synagogue furniture can't be easily differentiated from other used furniture, the ministry explained, there was no way customs would agree. People who smuggled Jewish artifacts out from Eastern Europe or Arab countries were never arrested for smuggling into Israel. I felt I belonged to the same category and was proud of having smuggled a synagogue to Israel.
A few months later, the EFTA countries, which included Sweden, signed a free-trade agreement with Israel, which meant that we could have imported the synagogue directly from Sweden, duty-free. But this would have taken away the fun and pride of having been a synagogue smuggler. I am still waiting for the first snowstorm so that the snow-scraper on the door will become useful.
Originally published in The Jewish Daily Forward

In answer to a readers' question: The synagogue was located on Östra Storgatan 18 in a building originally built in 1930 by a Jewish man called Ilke Sharfstein who later moved to Stockholm. The building burnt down in 1960 but was rebuilt and the shul reinaugurated in 1962.

Comments
No comments made yet. Be the first to submit a comment