A Stitch in Time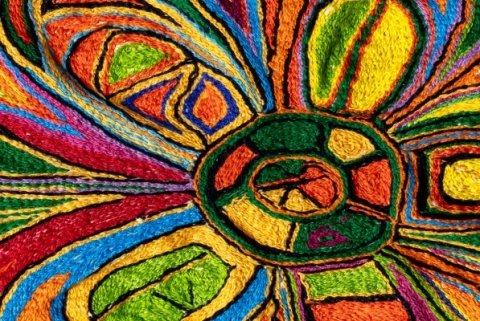 The Embroidery Center of Sderot

Translated from the Hebrew by Norman Silbert

Photos: Moshe Ash

"We arrived in 1991 with Operation Moses. We had learned embroidery in the niddah (ritual impurity) house," says Almito Alma, a member of the group that has been active in Sderot since 2013. "That was the time when women could enjoy freedom. I am not embarrassed. We grew up with it. It's a week in every month during which the woman is more important. Normally we had to fetch water from quite a distance, wash clothing by hand, grind the grain, cook, take care of our husbands and children and, of course, the home itself. In the niddah house we never did any of that. The neighbors used to take turns to bring food. We all took care of our friends."

"That sense of freedom renews your energy and you have time to rest physically and mentally and take time for your thoughts. You can recharge. The men don't really cope when the women are not home and they have to take care of everything. It's the time they learn to appreciate their wives."
For me, all my creativity in embroidery, weaving, and pottery comes from this time. For example, designing woven articles demands a lot of planning: the designs have to flow, triangles have to fit symmetrically into a round mat and colors have to match. You also have to recall every detail perfectly."
The group consists of fifteen women from the Ethiopian community, together with volunteers, women and men, from neighboring kibbutzim. They meet every week for a day to work on their embroidery, develop new creations, learn Hebrew, socialize and celebrate holidays, simchas and family remembrance days together. During times of tension following security events, the women in the group draw strength from each other, each offering support in her own way.
Kassa Meshasha shares the integration problems she experienced, including loss: "I arrived in Israel with a week-old baby. Ulpan began a week after we arrived and the teacher asked us to write 'Ima' and 'Abba'. I started crying. I was reminded that I no longer had a mother or father. After that, I didn't want to study Hebrew. It just broke me."
"It was my husband's mother who taught me embroidery," she explained. "We did needlework when there was time, in the niddah house. There were also women older than me and we would sit in a circle around the woman who was demonstrating her skills and watch while she worked. That's how we learned. A competition between us for the best work encouraged us to grow and challenged us.
Ethiopian embroidery is the work of Jewish women. The needlework is characterized by contrasts of bright colors in geometric patterns, which reflect a world rich in ideas and images.
"I love seeing the final product," says Kassa, "but I also enjoy the process of creating something with colors and designs. Embroidering is not an easy process. When I finish I feel like 'wow, I did it!' I'm learning all the time and enjoy the compliments and the opportunity to improve.
"Enjoyment from the project comes from being together," she adds, "seeing what others are doing. We each have a different style and it is interesting to see the variety. Each style reflects a personality. We can guess who created which piece. The difference between the styles is intriguing. Constructive criticism and competition drive us forward."
"Our creations bring us pride. People look at us differently. We enjoy having visitors coming to the workshop. People have heard about us and think we are just simple people. It's important they know where we are successful. Some of the visitors tell us what it was like for them to make aliyah, and where they came from. It wasn't easy for them either as new immigrants."
They also had problems; we are not the only ones. I love coming to the group. It gives me a good feeling. It bonds us. The company of other women reminds me of the friendship in the niddah house."
Adele Rubin from ESRA started the group in 2013. It was made up of new and former immigrants who help each other in the task of integrating into Israeli society. Esther Niv joined and provides professional guidance in sewing. Gili Zivan from Kibbutz Sa'ad gives the group further encouragement by helping combine Ethiopian embroidery with her art work. She proposed that we preserve traditional Ethiopian embroidery, and enlisted Rivi Ziener, Nurit Kraus and Hagit Refal also from Kibbutz Sa'ad, as well as Moshe Ash, a professional designer, born in Kibbutz Sa'ad and currently living in Tel Aviv. Other women from kibbutzim in the area also joined in to help. The group has blossomed; its work is now sold throughout Israel and has even been exhibited in the Knesset.
The group's unique quality is its ongoing renewal that integrates the traditional and the new, using embroidery as its medium. They produce a wide range of unique examples of a traditional art that make wonderful gifts, or that can be used as a decorative statement: mezuzah covers (the flagship product), calendars, baskets woven from palm leaf strips, table placemats, chains and jewelry based on traditional Ethiopian designs for gold and silver jewelry, bookmarks, coasters, magnets, and birkonim (booklets of "brachot"); also available is an instruction kit entitled Secrets of Ethiopian Embroidery.

Tours are conducted at the workshop in Sderot for locals and visitors from abroad. The visitors meet the group members and hear their personal stories. They can try their hand at Ethiopian embroidery and taste traditional Ethiopian dishes. The group members also conduct Ethiopian needlecraft workshops throughout the country, where their unique creations are also on sale. All takings go toward funding the important work of the association.
The stories of the group's members have been transcribed from interviews with them conducted by Zila Levi of Kibbutz Gevim. The interviews and their personal stories will soon be published in a booklet and will be available for purchase with their handwork.
Members of the Kibbutz Dati Movement are invited to coordinate a visit or to book a workshop at their kibbutz: Contact Gili Zivan on 052 396 8706 or Moshe Ash on 050 867 8033
Comments
No comments made yet. Be the first to submit a comment