Taking a Leaf Out of Our Books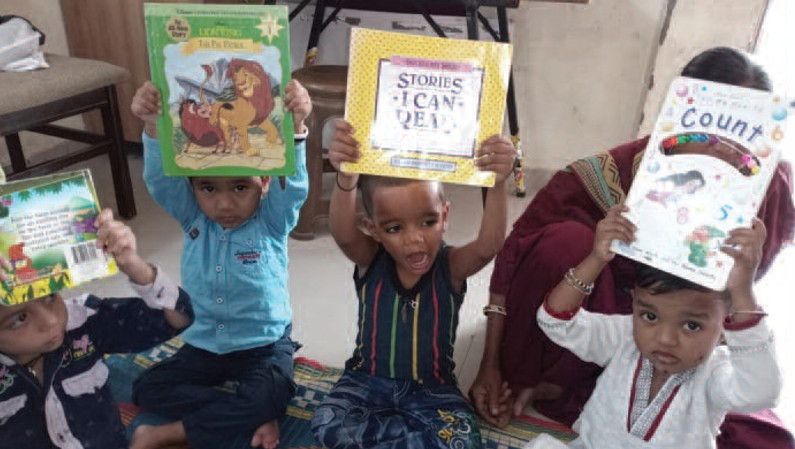 Every charity looks for different ways to provide opportunities for its donors to play a role, from contributing money to delivering food packages, for example. The ESRA Modiin Bookstore has found its own special way of supporting the important work of the Gabriel Project.
The 10-year old ESRA Modiin bookstore was faced with a real dilemma: as a second-hand bookstore whose income is raised for charitable purposes, the shop relies on the donation of books to resell. However, at times, these donated books are not suitable for reselling because of the condition in which they've been received. Lacking sufficient storage space to warehouse all unsaleable books, what should one do with books that are donated to the store but are not in a proper state to be resold.
The second-hand bookstore, which is located in the parking lot of the central shopping mall in Modiin, is the prime volunteer activity of the Modiin branch, with more than 60 volunteers working one or more 3-hour shifts per month. After the monthly rent and utilities are covered and a contribution to the ESRA National office is made, the balance of funds generated goes to support the key charitable recipient of the ESRA Modiin branch, the afternoon children's program at Neve ESRA.
Thanks to an initial approach by Jacob Sztockman, the Modiin resident who founded the Gabriel Project, to the bookstore's former manager Cynthia Barmor, a solution was developed to help save slightly damaged books from the nightmare of recycling while enhancing the educational activities of the Mumbai children of the Gabriel Project: Rather than discard these children's English language books, the ESRA Modiin Bookstore now packs up these volumes and gives them to the Sztockmans to hand deliver to India. These books are given new life in the hands of the Mumbai children who are eager to learn English. It is a "win-win" solution for all!
As Sztockman noted: "ESRA Modiin has donated hundreds of children's books to our library in the Joshua Greenberger Learning Center in the Kalwa slum north of Mumbai, India. These books serve hundreds of children, ages 4-14, who participate in the Gabriel Project's ongoing programs. The children we serve all live in Kalwa, in some of the harshest conditions of poverty in the world. We provide a range of educational programming to this community, including formal schooling, after-school tutoring, and English-language supplementation.
Jewish volunteers from around the world who participate in the GPM programs through JDC-Entwine add to the childrens' experience by offering informal education in subjects such as geography, math, and English. In all of this, the JLC library, created by Yoni Levy from Raanana for his barmitzvah in 2017, which is now bustling with books donated by ESRA Modiin, serves a crucial role in helping the children learn."
The ESRA Modiin Bookstore is open six mornings a week from 10am to 1pm and three afternoons, Tuesday to Thursday, 4-7pm. For more information about the bookstore, contact the manager Robert Golub, This email address is being protected from spambots. You need JavaScript enabled to view it..
Related Posts
Comments
No comments made yet. Be the first to submit a comment
By accepting you will be accessing a service provided by a third-party external to https://mail.magazine.esra.org.il/